October 25, 2009

I was able to finally do my first blog tutorial. Before I start, let me say that I bow to all of you tutors out there who have the patience to do this more than once! It took me what it seems like eternity to take all these pics and also I realized that I don't really have good lighting anywhere in the house, lol! Hope you guys find this helpful nonetheless. If you have any tips in how to make the picture tutorials better, let me know :)

For my first tutorial, I thought I do one of my go-to looks, which is greens plus blue brown pigment. I included a simple face routine as well (not an elaborate one with contouring). This is pretty much my everyday face routine.

Anyway, less talk less and do more, haha:

1. This is the picture of everything I used:
Bases: Bare Canvas paint and Delft p/p
Eyeshadows: Gorgeous Gold, One Off, Humid, Blanc Type, Rated R, Embark and Creme de Miel
Pigment: Blue Brown
Liners, mascara, brows: Blacktrack f/l and Feline, Lancome Hypnose, Benefit Browsing (Dark)
Face Stuff: Cover FX Primer, Lise Watier Concealer wheel, MUFE HD 118, Nars Deep Throat and BB Apricot Shimmer brick.
Lips: BB chapstick, Blankety l/s, Gold Rebel l/g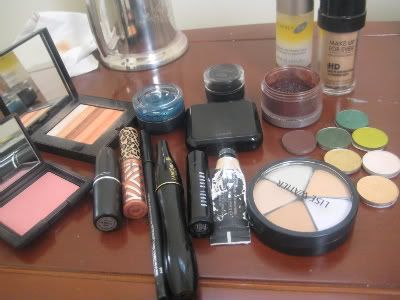 2. Start with a naked eye, then take a little bit of Bare Canvas paint and put it from crease up, like shown. I used my fingers to apply and blend.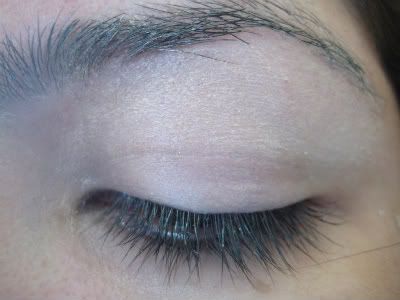 3. Take a little bit of Delft paintpot and apply to the lid and blend up to just a bit above the crease. I use a Quo cream shadow brush for this. You can also use MAC 242 or your fingers (couldn't find my 242). Don't forget to also apply this to your lower lashline:



4. Using your 239 or any flat shading brush, apply Gorgeous Gold e/s to the inner 1/3 of your lid, make sure to tap the colour in instead of dragging: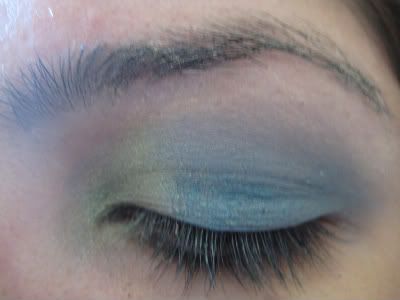 5. Using the same brush, apply One Off or any medium grass green e/s to the middle 1/3 of your lid. I usually blend as I go by bringing the GG into the One Off and vice verse. This is what you should have now: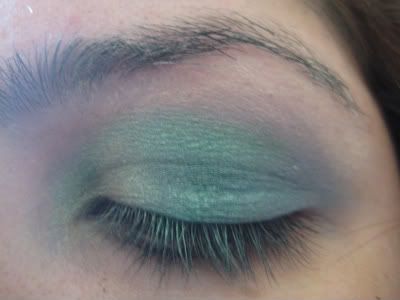 6. Again using the 239, apply humid or any dark forest green e/s to the outer 1/3 of your lid and blend with the One Off. You should have this: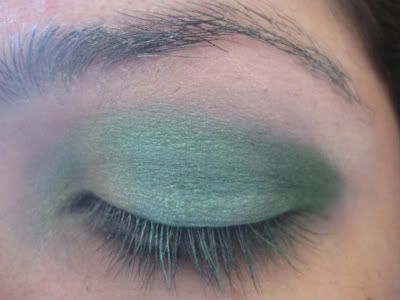 7. Using a small tapered brush (226), apply Blue Brown to the crease and outer v. Make sure you tap off excess pigment before you start to avoid fall outs. Continue going back and forth till the pigment is almost entirely blended. After that I apply my highlight. I used Blanc Type as it's a great matte highlight colour. When you have this much shimmer on the lid, stay away from shimmer on the browbone. This is what we have now:



8. Now, take your 217 and take a little bit of Embark and hover it on the outer v and in the crease to add depth. I used Embark instead of black e/s since this is a day look and I don't want it to be too dramatic: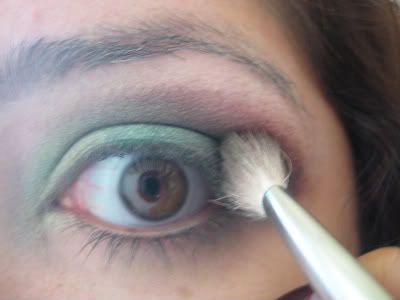 9. Now take a large fluffy blending brush (224) and blend the Blue Brown into the highlight. By the time you're done, you should have a seamless gradient of colours: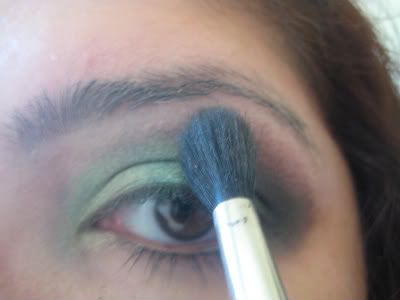 10.Now take the same 224 and dip it in Creme De Miel or any other yellow toned shimmery e/s.
Apply CDM in the tearduct, this helps highlighting this area and make your eyes look more open: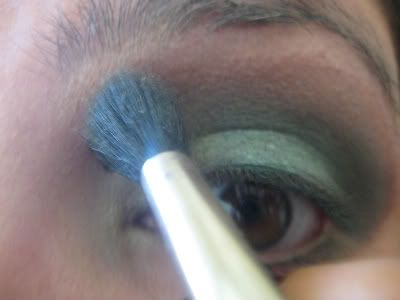 11. Now take any yellow green e/s with a pencil brush like 219 and apply to the inner lower lid; I used Rated R. Next apply One Off to the mid lower lashline and Blue Brown in the outer lower lashline, like this: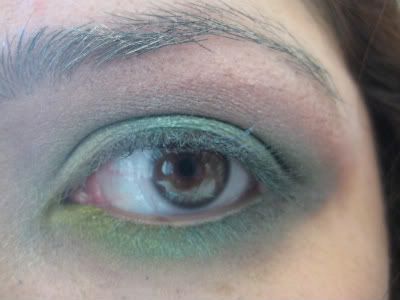 12. Now take your favourit eyeliner brush (209) and take some Blacktrack f/l. Line you eyes by keeping the brush at a slight angle. I start somewhere near the inner eye but not at tear duct. I go back and line the area near the tear duct at the end when there's less gel liner on my brush. I like to flick my eyeliner as I'm a big fan of the cat-eye:



13. Now take your Feline and line the lower and upper waterline like so....oh, and I'm not poking myself in the eye :/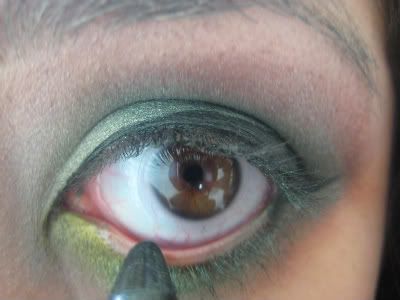 14. Apply your favourite mascara; I used Lancome Hypnose.This is what we have now: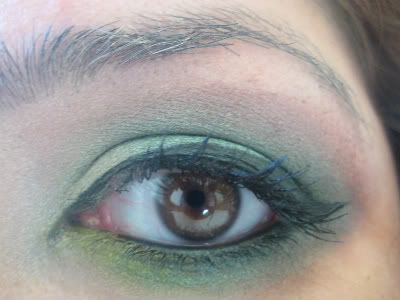 15. I define and fill my eyebrows using Benefit's Browsing in Dark. First define the eyebrow using the waxy side then use the powder side to fill them in, like so. I don't do this everyday though, my brows are already full and long: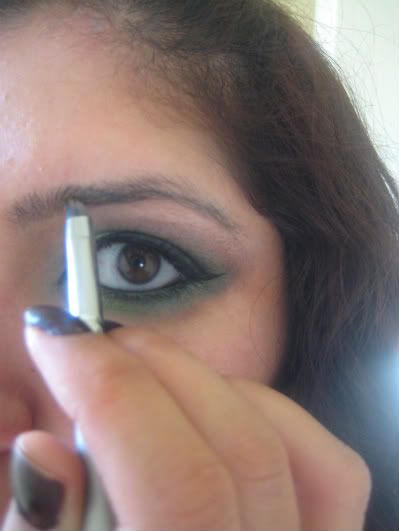 16. Then I take my 194 and some of the green concealer from Lise Watier concealer wheel. Apply that to everywhere I have redness on my face, which is pretty much everywhere, lol: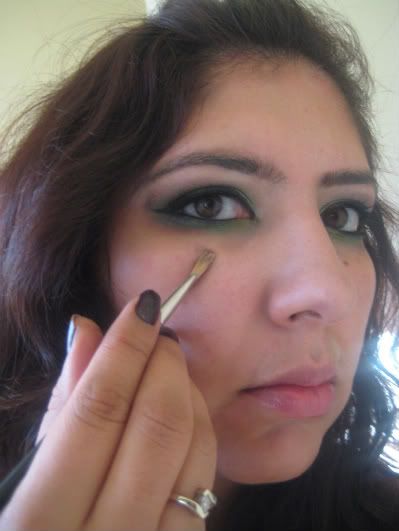 17. Then I take some of the ivory concealer from the same wheel and apply it under my eyes using my fingers: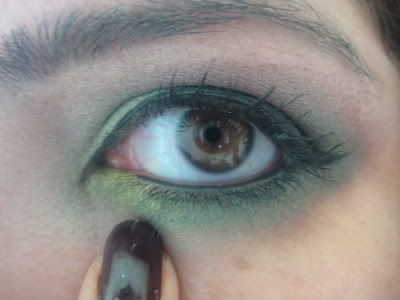 18. Then I applied my primer and placed a little bit of MUFE HD foundation on each cheek. With this foundation, less is more. I used my 187 to blend the foundation into my skin. Don't forget your neck!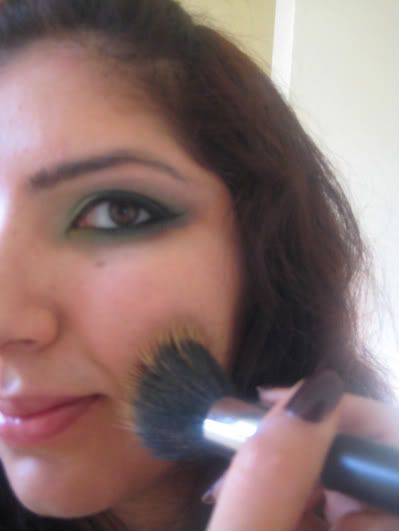 19. Now take your favourite peachy pink blush. I use Nars Deep Throat with a powder brush since it's very pigmented. Apply to the apple of your cheeks: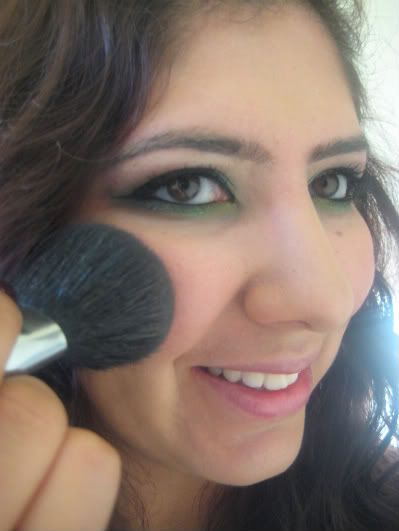 20. I do my cheek highlight using BB Apricot shimer brick and one of my favourite brushes ever, MAC's 165. I highlight my cheekbones and my nose and a little bit on my forehead: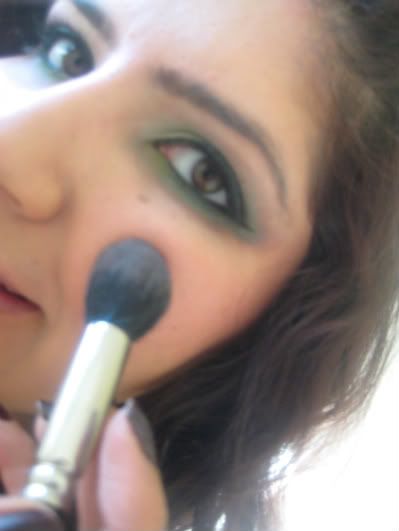 21. Finally, I applied a nude lipstick (Blankety) and topped with a nude gold lipgloss (Gold Rebel). Here are some of the pictures of the finished look: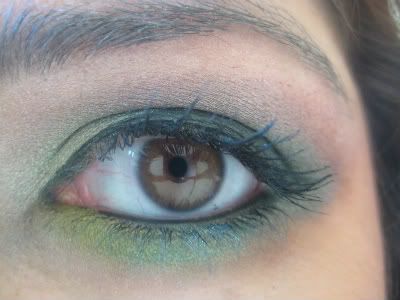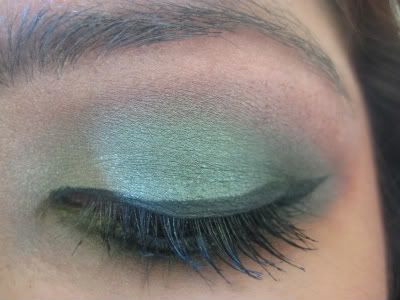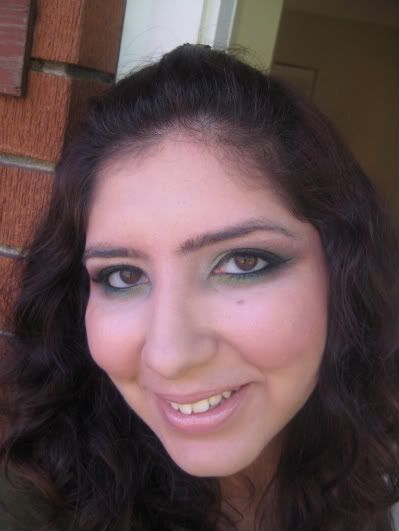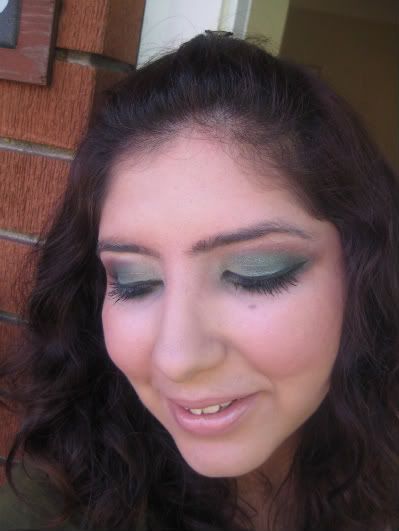 Hope you guys liked this. And wow that took a while!