February 5, 2010

Here's the swatches of quad #3 (purple quad), from MAC's Spring Colour Forecast as promised. I'm home early today so the sun is still out and I was able to finally take pics of this quad. I'm leaving shortly for some shopping but hope you guys find this helpful.

I would say the colour aren't as vibrant as some of the other purples I have, but still work lovely together. As I mentioned before, I appreciate that this quad contains eyeshadows of different textures and non of the colours are glittery. I also don't seem to have any dupes for any of these colours (well, one of them is sort of similar to another colour from my stash). All swatches are done on my NW25/30 (which for some reason looks much paler in these pics) arm with no base. The colours are slightly more pigmented and vibrant IRL.

Anyway, enough rambling, here we go:

The quad colours: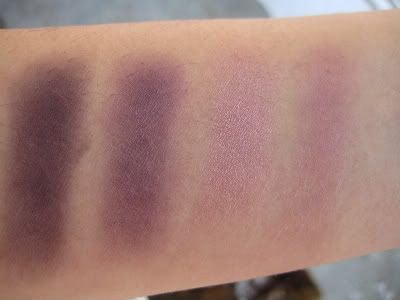 Left to right: Jungle Moon, Black Tulip, Bruised Plum, Mink Pink

This is the closed to dupes I came for one of the colours:


Illegal Cargo (left) and Bruised Plum (right). Illegal Cargo is slightly more purple.

And because some ppl had asked here's another one between Violet p/m and Black Tulip e/s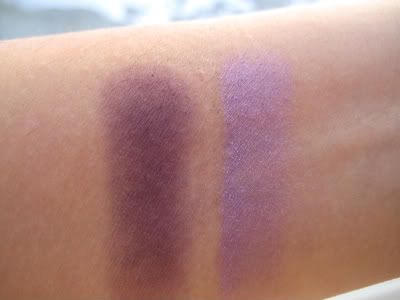 Black Tulip (left), Violet p/m (right). As you see, not even close!

Hope you guys liked these swatches and have a wonderful weekend!