October 1, 2012

I cannot believe that it's already October! Although change of season is very apparent where I live; the leaves have started to turn yellow and we are now at a high of 15 deg during daytime.

Fall makeup for me means darker lips and darker eyes. Since the last few FOTD's have focused on the lips, I made this one all about the eyes with smokey greens using Naked Cosmetics Ebony stack. I bought the stacks at IMATS 3 years ago or so and haven't used them in a bit. They are gorgeous smokey shades but perform much better damp and over a cream base (in this case MUFE aqua cream pot).

I usually do purple/burgundy smokey eyes as those shades look great on amber/hazel eyes like mine. But thought it'd be a nice change to use green. Hope you guys like this :)

Face
Marcelle BB Cream - Light to medium
Annabelle loose powder foundation - Beige
Sculpt powder (pro)
Prim n Proper blush (LE)
Chez Chez Lame powder (LE)

Eyes
UDPP - base
MUFE Aqua Cream Pot #22 (emerald green) - base for lid
Naked Cosmetics Ebony stack - dark green shade on lid
Old Gold p/m - inner lid
Wedge e/s - crease
Embark e/s - outer v
Vanilla p/m - highlight
Lancome Black Art Liner - to line
Stila Topaz liner - watreline
Lancome Hypnose drama mascara

Lips
Naked l/l
Honeylove l/s
Underage l/g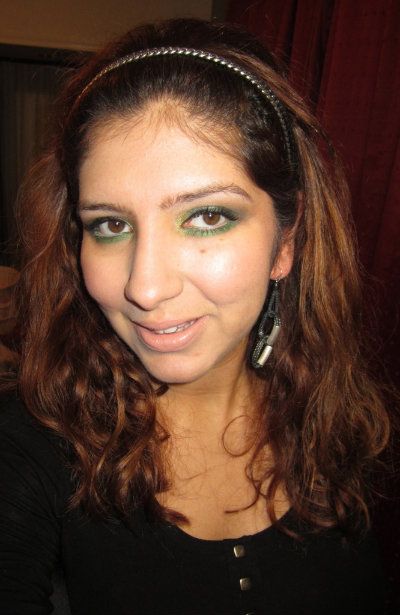 And the outfit of the night consisted of black top with leather paneling from Tristan and America, taupe and black mini by Marciano, metallic leggings by America Apparel and boots by Steve Madden:



What's your favourite shade to do smokey eyes with?