January 30, 2012

I really was feeling blue when I did this look and took the pictures. Honestly I think I'd go crazy with sleep deprivation if it wasn't for exercising and playing with makeup.

On this particular day I got all dolled up for a quick trip to Lululemon to get a sports bra (what a wasted trip). And since I was all done up anyway I stopped by a cafe and had me a cup of hot chocolate sans baby. It actually felt quite good :)

Here's the blue look I did: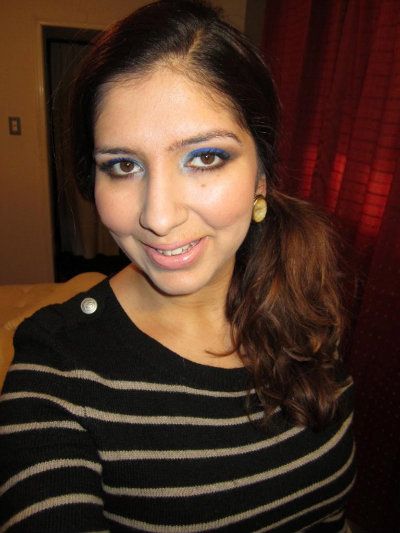 And here's what I used: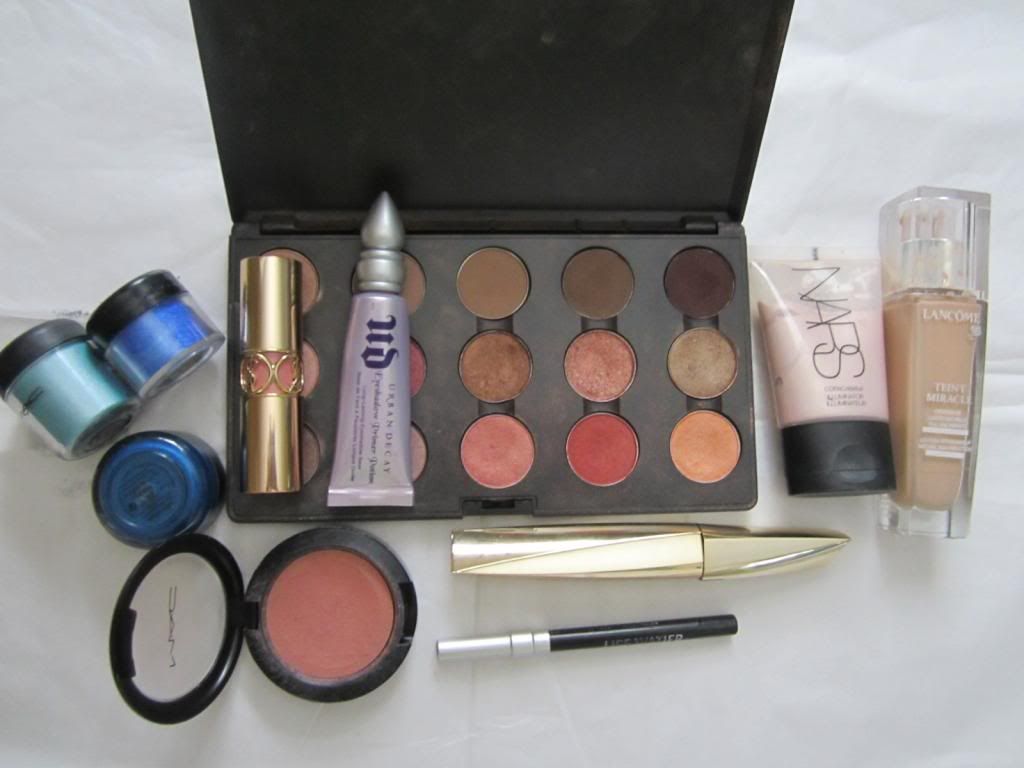 For face: Lancome Teint Miracle Foundation (Buff 4C) mixed with Nars Copacabana Illuminator as my foundation and used MAC Ladyblush creamblend blush on the apple of my cheeks. I finished with a dusting of Ben Nye Translucent Powder.

For eyes: Used UDPP as base and then applied a layer of MUFE #20 (blue) Aqua cream pot on the lid. I damped the brush with mixing medium and added Sugarpill Cosmetics Royal Sugar pigment all over the lid. Applied MAC Wedge e/s above crease and MAC Espresso e/s in the crease and on the lower lashline. Added MAC Blanc Type e/s as highlight and MAC Mutiny pigment (LE- pale aqua) as tearduct brightener. I lined my eyes with Lise Watier Noir e/l. I finished with two coats of L'Oreal Voluminous Dramatic Lashes mascara.

For lips: kept it soft and nude with a layer of YSL Rouge Volupte in Nude Beige (#1).

Here's one more pic with the eyes closed. It was too dark and cloudy to take natural light pics.

And for once I remembered to take an outfit picture. Even though I'm a new mom, I still have not become a jeans/legging kinda girl. I do have a few pairs of jeans and leggings but I still much prefer to wear dresses. Will always stay a girlie girl ;)
Striped sweater dress by Tommy H, silver tights by American Apparel, bow belt and gray over the knew platform boots by Guess.
Have a happy hump day!