I received an invite to attend the Hello Kitty event at the MAC store in the Rideau Centre on Feb 3rd. I'm so freakin excited. I've been buying and wearing MAC for 4 years now and this is the first time I got an invite! The collection actually won't be released till the 12th but I will be able to buy at the event...yeyyyy! What's even cooler is that my birthday is on the 5th and I know I will get some MAC gift cards from the hubby. I will get him to give them to me two days earlier so I can go nuts!

Here's some crappy pictures of my invite ( I used flash :/)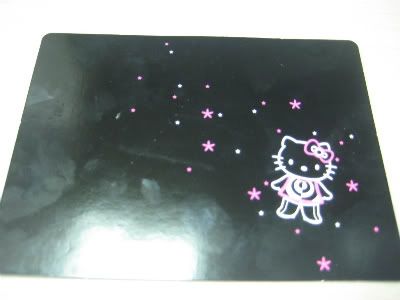 I'm still not sure how I feel about this collection. I actually really like the packaging though I never was a hello kitty fan. There is a whole bunch of accessories released with this collection which I will stay away from. I think most Hello Kitty fans will love the accessories though. Here's the colour story courtesy of Christine at Temptalia:

LIPSTICK
Cute Ster Sheer peachy pink with pearl
Big Bow Sheer brighti ntense blue pink
Fresh Brew Creamed coffee
Fashion Mews Sheer pale lavender
Strayin' Frosty midtone mint
Most Popular Sheer deep berry
Lipglass
Sweet Strawberry Sheer berry with blue pearl
Mimmy Light creamy ipnk with pink and gold pearl
Nice To Be Nice Sheer bright intense orange with pearl
Nice Kitty Sheer neon pink with blue pearl
She Loves Candy Pale blue pink with gold pearl
Fast Friends Sheer bright intense purple with pearl
Keep reading for full details!
Tinted Lip Conditioner
Popster Lively coral pink
Pink Fish Soft neutral pink
Eyeshadow x 4: Lucky Tom ($38.00)
Stylin Midtone violet blue with multi-dimensional pearl
Lucky Tom Dark charcoal brown with gold pearl
Creme Royale Yellow wheast gold
Pardisco Soft bright pinky coral with golden shimmer
Eyeshadow x4: Too Dolly
Too Dolly Frosty midtone mint
Stately Black Rich blue with silver sparkle
Yogurt Soft pale pink
Romping Rich magenta with pink pearl
Glitter Eye Liner
Her Glitz Blackened gold with multi-dimensional glitter
Glitterpuss Orangey bronze with multi-dimensional glitter
Kitty Power Pink with with multi-dimensional glitter
Girl Groove Clear/white teal reflects and with multi-dimensional glitter
Pigment
Milk Frosty pale silvery pink
Deep Blue Green Rich, deep bluish green
Reflects Glitter
Reflects Blue Sparkling blue
Reflects Very Pink Sparkling fuchsia pink
Nail Lacquer
Something About Pink Blue pink fuchsia
On the Prowl Light creamy grey
Vestral White Creamy white
Plush Lash
Beauty Powder Blush
Fun & Games Soft orange peach
Tippy Midtone blue pink
Beauty Powder
Tahitian Sand Soft coral peach
Pretty Baby Soft sunny pink with gold
Lash
Hello Kitty Lash Half lash with overlapping hairs to emphasize outer
I'd say out of all these, I know I'm definietly skipping the eyeshadow palettes, the lashes, the mascara, the nail polishes and most probably the beauty powders. My tentative list is:
Fashion Mews
l/s: depends on how it'll look on me. I usually pull off the cool pink/purples
Cute Ster l/s: if it doesn't look like anything I have
Most Popular l/s: same
I will pick up two of the lipglasses based on how they swatch
Pink Fish lip conditioner - most definitely
Kitty Power glitter liner - oh how hot will this be?
Fun n' Games bpb - I read that this looks like Peaches, if so I will get it as Peaches have been on my to-buy list for a long time
Can't wait!