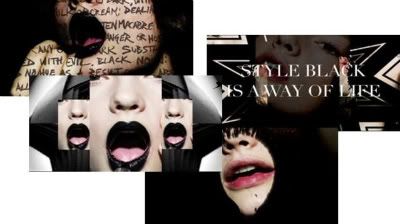 picture courtesy of Specktra

Specktra already has full colour info and collection promo image for various fall collections. The one I'm particularly interested in is called Style Black and is set to be released in North America on September 24. Now I know that's a long time away still, but I'm so freakin excited about this collection. Just take a look at the collection info below:

Style Black - Colour

Lipsticks: (LE) $14.00
Black Knight - Creamy true black (cremesheen)

Mattenes: (LE) $14.50
Midnight Media - Dense matte black
Night Violet - Deep purple grape (Repromote from Mattene)

Glimmerglass: (LE) $18.00USD
This is a new lip product. They are in the same packaging as the Dazzleglass tubes and have a brush applicator.

Bling Black - Sheer black with gold pearl
Blackfire - Sheer black with pink purple pearl
Blackware - Creamy true black
Mineralize Eye Shadows
: (LE) $19.00USD
Cinderfella - Black with silver pearl
Young Punk - Black with pink purple pearl
Gilt by Association - Black with gold bronze pearl
Blue Flame - Black with blue pearl
Grease Paintstick
: ($17.50)
Intense Black - Black base with purple shimmer. These are water-/smudge-resistant.
Penultimate Liner
: (Permanent) $16.50
Eye Kohl
: (LE) $14.50USD
Nail Lacquer:
$11.00USD
Nocturnelle - True black (Cream) (Permanent)
Seriously Hip - Black with gold particle pearl (Frost) (LE)
Baby Goth Girl - Black with pink and purple pearl (Frost) (LE)
Tools:
#214 Short Shader Brush - Short, rounded, double-chiselled brush with soft, natural bristles. Can be used with shadow to line and smudge around the lash line and very effective for densely shading lids. (Permanent) $23.00USD
Style Black - Face
Skincare
:
Volcanic Ash Exfoliator (LE) $19.50USD


Volcanic Ash Thermal Mask (LE) $19.50USD

Cream Colour Base
: $16.50USD
Black Creamy - True black (LE)
Bat Black - Burgundy black with pink pearl (Permanent) (Pro)
So, doesn't it all sound yummy? I haven't been too keen on any of the MAC collections this year so far. But this one sure sounds great! I know summer just started but I want it to be September already so I can get my paws on these! lol! I think I need to have:
- Black Fire Glimmerglass
- Cinderfella MES
- Young Punk MES
- Blue Flame MES
- Intense Black Grease Paintstick
- VAE
Bring on September, c'mon!