June 27, 2013

Hi guys! I'm very minimal with makeup these days but still love me at least a few beauty products per day :D Thought I share my early summer favourites with you guys:

Lip Products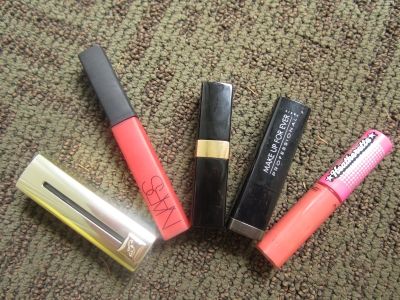 My favourite category!! Summer is the only season where I actually wear lipgloss. I love Nars Babe as it's a gorgeous pigmented warm red gloss and is not sticky. Another rediscovery is my ancient MAC Sock Hop (LE - Heatherette, 2008) which is a beautiful light coral cream. When it comes to lipsticks, I also go for warmer and creamier. Guerlain Rose Bengal Rouge Automatique is a warm rose that applies with some shimmer but is not gritty. Chanel Antigone Rouge Coco Shine is a lightly pigmented strawberry red and MUFE #37 Rouge Artist is a loud pink coral that will definitely make your lips stand out.

Swatches: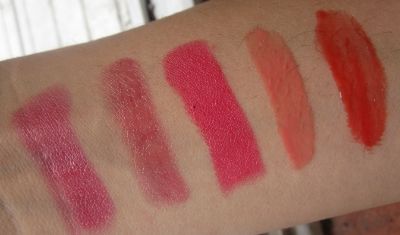 Left to right: Guerlain Rose Bengal, Chanel Antigone, MUFE #37, MAC Sock Hop, Nars Babe

Eye Products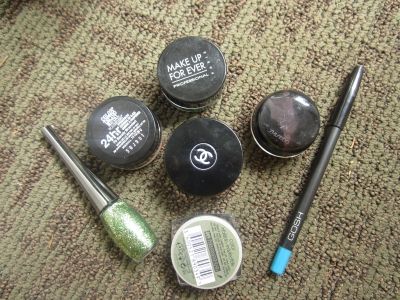 I'm currently a fan of one product only eye makeup and hence gravitate towards cream shadows and bright eyeliners. L'Oreal Permanent Khaki Colour Infalliable is a shimmery olive green that is great as a lid colour blended up. Maybelline Barely Branded Color Tattoo (light golden beige) is an awesome all over colour and eye brightener. Chanel Illusoire Illusion d'Ombre is a tres chic sparkling mauve, love this one smoked out with a dark matte purple for the night. Shiseido H4 cream shadow (DC'd) is a unique blend of warm pink with green flash that looks wet when applied to the eyes. MUFE #22 aqua cream pot is the most gorgeous emerald green that I love applying on as a liner, base for green shadow or for the sparkling Lise Watier Golden Green Eye Glitter. I tend to apply Gosh Blue Lagoon Velvet Touch eyeliner on my lower lashline to elevate a neutral look.


Swatches: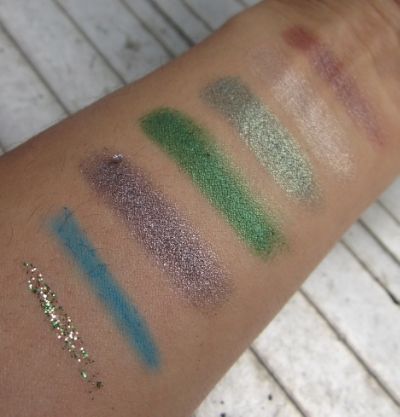 Left to right: LW Golden Gree, Gosh Blue Lagoon, Chanel Illusoire, MUFE #22, L'Oreal Permanent Khaki, Maybelline Barely Branded, Shiseido H4

Face Products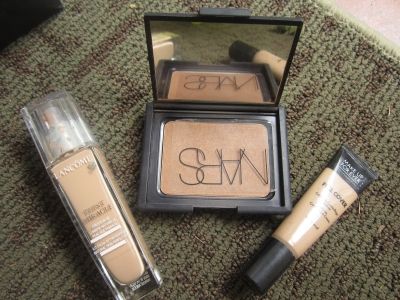 I'm super low maintenance with face products in the warmer months. Lately been loving my Lancome Teint Miracle foundation (I use shade 4C - Buff) as it's light and natural on. I also apply MUFE Full Cover concealer ins shade #6 under my eyes and on scars and go a bit overload with Nars Laguna bronzer (another rediscovery in my stash). I need to bronze a lot these days as I did a spray tan on my body and now my face and body don't match, lol!


Nail Products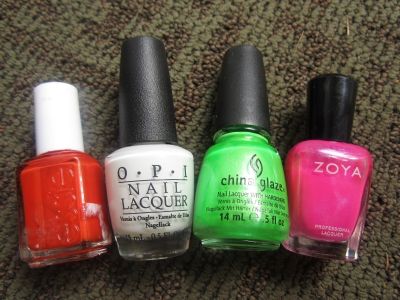 I'm traditional so in the summer I go nuts over brights and neons. I've also been loving a full on white manicure using OPI Alpine Snow, so elegant and goes with everything. My current fave neons are Zoya Lola (gorgeous bright pink) and China Glaze I'm with the Lifeguard (super neon green, great on toes). I also enjoy the bright orange red that is Essie Meet me at the Sunset.


What are your current favourite beauty products?