March 27, 2012
Hey beauties! I finally have a review for you. This one is a product that I have a feeling will reach holly grail status for me, so stay tuned:
Nars describes their new tinted moisturizer as "Your skin, but better" and says that the newest addition to their foundation range is oil free and will offer sun protection while helping to reduce skin imperfection.
I'm a fan of light weight and water based foundations like Nars Sheer Glow, Chanel Vitalumiere Aqua and Lancome Teint Miracle. However, never before had I tried tinted moisturizer so I was impatiently waiting the released of this. After a month of using this tinted moisturizer, I feel that I can give it a fair review.
***My skin type is combination and sensitive. I wear "light shades" and "cool or neutral" undertones in most brands***
Formula and Application: Nars Pure Radiant Tinted Moisturizer (TM - from here on, lol) feels creamy but very lightweight. It's very easy to apply using your fingers and adheres to skin immediately. You can build up to medium coverage if desired but I prefer a light application. I like that I can reduce my beauty steps and skip applying moisturizer first when I use this product. The SPF30 means that I can also skip my regular sunblock. Without setting powder, I stay shine free for about 8 hours. I have a feeling in hotter summer months I'll need to powder up after 4 hours.
Packaging and Price: Nars TM comes in a squeezable tube which I like as I can toss it in my travel bag and it doesn't weigh it down. It's a bit pricey though at around $48CAD but I've come to terms with Nars price point as I more often that not find my HG's in this brand.
Colour Match: I got the shade Alaska which is the second lightest shade. It's currently a bit dark and orange on me (as you see in picture below) but I make due until I tan. The TM is quite light in texture so it's forgiving when a bit too dark. I find it surprising that there are not too many fair to light shades for this product but quite bit of tan to dark shades. My sister who's a bit lighter than MAC NW15 could not find a shade match in this range just FYI fairer beauties.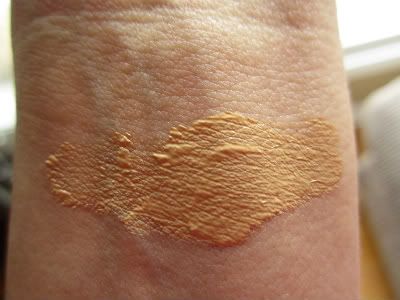 Nars TM on my inner arm (currently NW20)
Overall, I really like this new product. My first experience with a tinted moisturizer and definitely a positive one. I've been told my skin looked great since I started wearing it and I enjoy going through less beauty steps.
Have you tried Nars new Tinted Moisturizer? What is your favourite light weight foundation?