September 19, 2013

Hi guys! I'm currently fighting some kind of virus and feeling absolutely miserable. It's tough being sick and having a baby but I find episodes like this really have built my character as a person.

This look is from a few days ago. As you can see I have chopped my hair quite a bit. The ends were getting pretty dry and I was due for a trim. I'm still loving the dark shade and the fact that this neon blouse is making me look quite a bit tanner than I currently am. I did an olive toned eye paired with shimmery coral lips to compliment the blouse (and the olive pencil skirt I was wearing).

For Face: I used a thin layer of Nars Tinted Moisturizer (Alaska) and set with Ben Nye's Translucent Powder. I contoured my cheeks using Chanel Notorious powder and added Nars Deep Throat blush to the apple of my cheeks.

For Eyes: I used MAC Painterly p/p as a base and contoured the eyes crease with MAC Velvet Moss e/s (DC). I then added a moist layer of OCC Lafayette pigment all over the lids. I highlighted the middle section of the lid with MAC Amber Lights e/s and the browbone with MAC Blanc Type. I lined the lower lashline with Lise Watier Black Gold e/l (DC) and added two coats of Lancome Hypnose Drama mascara.

For lips: I first lined them with MAC Temperature Rising l/l and then dabbed Chanel Teheran RC on top.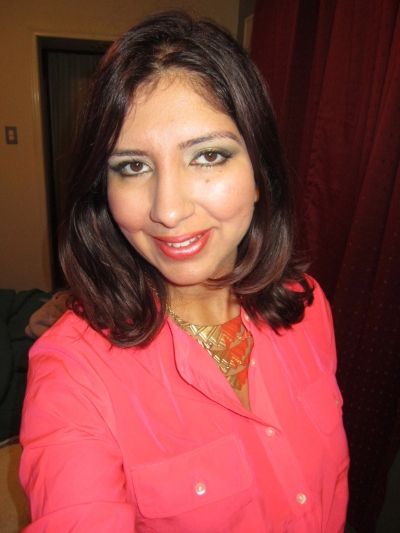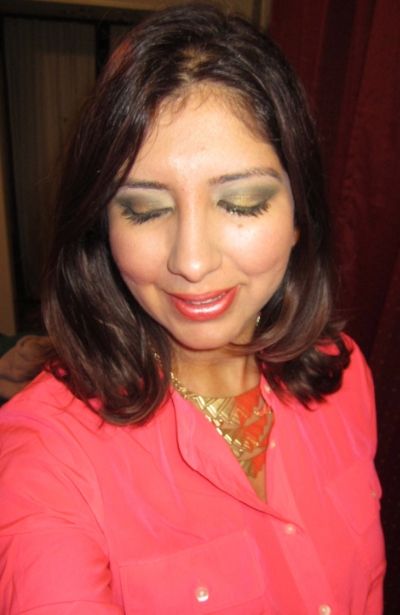 I'm trying to ease into the swing of the FOTD's so hope you guys liked this simple look. I have some fall lipstick reviews coming up for next week :)