December 19, 2011

Hey beauties! I attended our company's annual Christmas party this past Saturday. I dolled up with smokey purple eyes, bigger hair than usual and a chic BCBG dress (BCBG is my fave place for buying dresses). What made the night better was that I won the grand raffle price for the night which was a 42" flat screen Samsung TV!! Yey, I never win anything so this was awesome!
Here's the makeup look:
Face
Cover FX primer
MUFE HD Foundation - 118 (Flesh)
Ben Nye powder
Sculpt
Azalea Blossom b/o
Eyes
UDPP - base
Blacktrack f/l - base for lid
Nars Pandora duo - black shade on lid, white shade as highlight
MUFE #92 - crease
MUFE #9 - above crease
Feline e/k - waterline
Lancome Hypnose mascara
Lips
Nars Sex Machine mvp
Going Casual c/g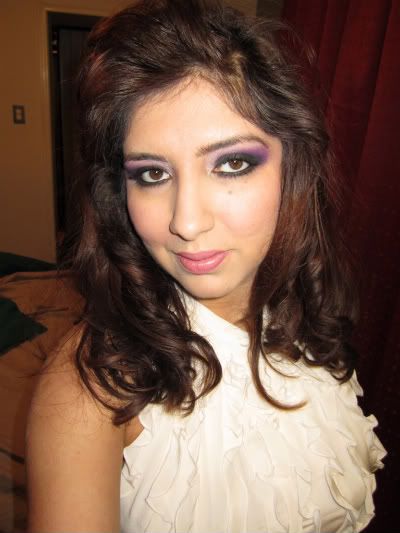 And here's a picture of the dress. I cropped my coworkers and boss outta the pic for their privacy. I obviously forgot to take a nice pic of the dress :/

I also sported this blingy holiday inspired nail look for the night. It's one layer of ChG Rodeo Fanatic (dark teal from a couple of years ago) plus two layers of OPI Servin Up Sparkle (I think this is LE from this holiday). I loved how this came out, sparkles FTW!