December 6, 2011
Hey guys! I could never pick one brand as my most fave but Nars comes pretty close if I were forced to pick. Most of their products just work great for me, so this was another case were picking only 5 items was tough.....so I picked 6, ooop! I know I'm cheating but this is my blog so I'm allowed :P
Here we go: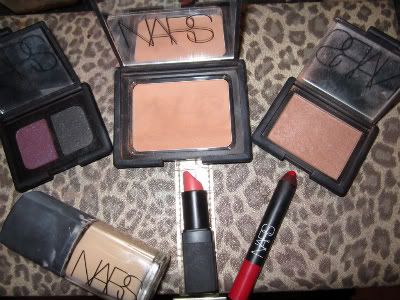 1. Nars Sheer Glow Foundation (Santa Fe) - I've been a convert of this foundation ever since it was released a couple of years ago. It offers perfect light coverage blends right into my skin (I use my fingers to apply). Shade Santa Fe is a great match for my skintone.
2. Nars Irresistiblement Bronzer
- aaaaahhh how I adore this product. It is the perfect bronzer when you want a natural glow vs a baked look. I use this product all year around and every single day in spring and summer. I know Laguna has a cult following (I own that one too) but I personally prefer Irresistiblement. See my full review
here
.
3. Madly Blush - Nars was made famous with their beautiful and pigmented blushes. It was so hard for me to pick one as my absolute favourite in this category but I have to give it to Madly, which is a beautiful warm neutral seashell pink shade. This blush goes with everything and is perfection on my skintone for a natural look.
4. Eurydice Eyeshadow duo - I think that Nars is genius with his duo colour combos; there are so many beautiful ones too chose from. I'm collecting them all slowly but my most used one has got to be Eurydice. Both the shimmery charcoal and the flatter raspberry side are super duper pigmented and you know I love my berry shades!
5. Niagara lipstick - this pink based coral has a satin finish which means you can go sheerer with one layer or easily build up the colour. Niagara is a sexy coral, bright enough but not loud...I would say a pretty and demure coral yet totally face brightening, LOVE!
6. Dragon Girl Velvet Matte Lips Pencil - I love the convenience of not having to line my lips with Nars chubby pencil and the matte yet satiny feel of these is to die for. Dragon Girl is the most perfect retro red lipstick I've ever had the pleasure of wearing. It's the same shade as MAC Ruby Woo, with a MUCH superior texture.
Do you guys own any of these products? What are your top 5 Nars Cosmetics Products?