June 10, 2012

Happy Sunday beauties! This was a super productive weekend again for me. I got a tone of baby stuff done and also spend quality time with hubs, my folks and also close friends. Got nice and recharged for another week of work!

I was sending out a package at the Canada Post in Shoppers when I noticed that they have a few Gosh items on sale. Gosh is one of my favourite drugstore brands especially for their eye liners, lip liners and lipsticks. I gotta say my biggest weakness is their Gosh Velvet Touch Eyeliner. If I see them on sale, I always snag a few: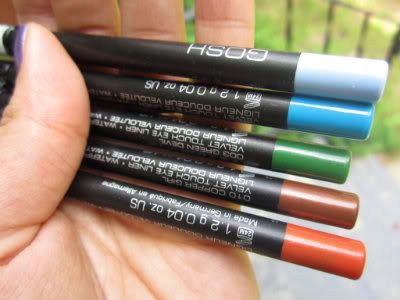 Bottom to top: Girl Power, Copper Girl, Green Devil, Blue Lagoon, Ice Blue

If you've been following BeautySpot for a while, you may have noticed that I routinely use the Gosh liners on my lower lashline and even as base for eyeshadow. I love that they draw a smooth line effortlessly, are pigmented in one stroke, last 7-8 hours on me AND are waterproof.

Let's just say I'm a fan, and on $7.00CAD each I couldn't resist but grab five of them: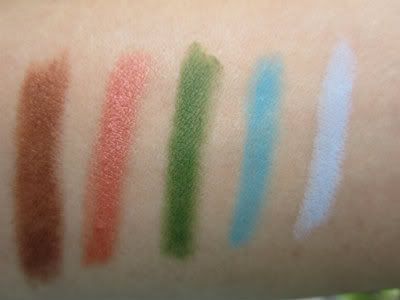 Left to right (NW25 skintone): Copper Girl, Girl Power, Green Devil, Blue Lagoon, Ice Blue

Copper Girl - medium copper shade, lighter than UD Copper
Girl Power - shimmery bunt orange, not sure how I'd wear it yet but I like :D
Green Divil - gorgeous deep grassy green, the smoothest one in the bunch
Blue Lagoon - creamy bright teal, sooo beautiful!
Ice Blue - very light silvery blue on me, will probably be great in tearduct area


Do you guys use Gosh Velvet Touch Liners? What are some of your favourite inexpensive liners?