I picked up this palette at Sephora after hearing raves about it on Specktra. I actually wanted to pick up one of her palettes for a while and I picked this one coz it was the prettiest IMO. Here's a picture of all the colours together: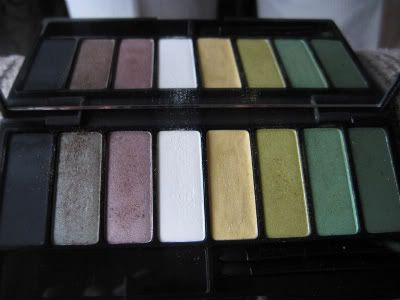 From left to right:
Lucifier - matte black
Stryker - brown with green duochoromes, really pretty
Frankie - very pretty plum
Hawkwind - a soft yellow green highlight colour, gorgeous!
Brass Knukles - cream true gold
Bird Cage - light chatreuse colour, amazing colour payoff
Ego Sum - medium grass green
Gunner - dark green with light green glitter. The texture of this one reminds me of MAC's velvet eyeshadows.

See below for my review of this palette.

Pros: I think this palettes is pretty good for the price. I don't have a lot of palettes so this was a nice addition to my collection. The colours have decent payoff especially the green brown and plummy one. I also like the size of this palette, it's not bulky and will fit in my smallest clutch.

Cons: The gold colour is cream and does not dry to powder, so it dosesn't last as long as the other ones. The colour payoff on these is hit and miss, some are not as good as others.

Overall, I'm impressed with this palette. I will definitely look more into Kat Von D's stuff at Sephora. I hear the lipsticks are very good too.

Here are some swatches on my arm with no base.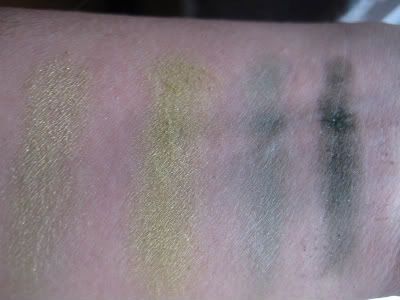 from left to right: Brass Knukles, Bird Cage, Ego Sum, Gunner



From left to right: Lucifier, Stryker, Frankie, Hawkwind