August 27, 2010

Hey lovelies! It seems like our lake trip might be FINALLY happening this weekend! This is the third time we're trying to go, lol! What are you all up to this weekend?

I wore MAC's Earthly Harmony on my nails today. I must say I'm really impressed with the quality of the newer MAC polishes. I could really have done one coat but did two just in case. The application was a breeze and the polish dry time was quick. The colour itself is one of those mushroom type shades; a light taupe that has super tiny gold flecks in it, you can really only see it in sunlight. I really really like this shade. It was the first shade I chose out of my haul from yesterday and I know I will wear it a lot.

Here's a 2-coat swatch on my nails. Excuse my dry skin :/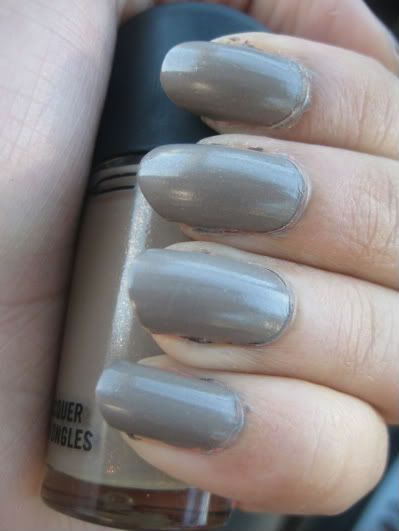 Have you guys picked up this colour? How do you feel about the taupe trend?