April 29, 2012

Hello beauties! Sorry for the 10-day absence from the blogsphere but I just got back from a week long vacation with hubby.

We decided to go on what people call a "babymoon". As in a nice relaxing vacation before bebe is born. We chose Mayan Riviera after some research and had a truly amazing time during our one-week stay there. We stayed at a 5-star resort and spent time relaxing by the pool/beach and also went on an excursion including climbing temples of Koba, swimming in a cenote and visiting a Mayan village.

Hubby and I had visited Dominican Republic and Cuba as part of our trips to the tropics before and we both agree that Mexico and especially Mayan Riviera is our favourite destination in the area.

Here are a few pictures from the trip:



Hubby and I on our first day at the beach.



Me and my 22 weeks preggo belly at the resort.



from this angle the preggo belly is not visible. But you can see how my waistline is gone :(



Dinner time, I love all the colours I saw in Mexico. Came back very inspired makeup-wise.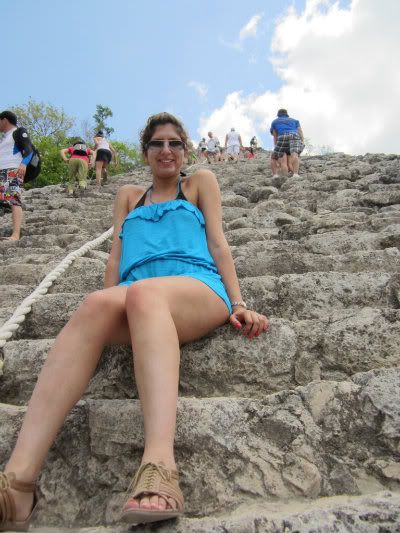 One of the temples at Koba. I managed to climb it despite my preggo belly :D



Mariachi night at the hotel. This was our favourite performance.

I would say the only thing I didn't like, was that I got badly sunburnt despite being very diligent with my regular application of SPF 70, booooo! One the burn marks on my chest is still there now since day one and STILL hurts to touch :'(

Hope you guys had a great weekend. The following posts are upcoming this week:
- Blog sale update
- Tropical inspired makeup
- Road to Maternity - Update #2
- Latest favourites - makeup, hair and skin products