March 8, 2013

I was organizing my closet and makeup stash yesterday to add some items I had recently purchased when it dawned on me: now that I'm in my 30's I seem to have a set style finally. I experimented a lot more when I was younger but I now seem to gravitate toward particular cuts and colours and only add new touches here and there.

Here's my style philosophy:

1. Be proud of your shape and flaunt what you got: I have a zillion shift and form fitting dresses, pencil skirts and fitted tops. I would describe myself as a "shapely" girl. Shift dresses look great on curvy figures without showing much and they are my staple. You'll never catch me in something loose fitting unless it's belted.

2. Know what colours work on you: most of my closet is neutrals in form of many well loved LBD's, white tops and beige/gray skirts. I rarely ever fully dress in neutrals though. My favourite colours to wear are shades of red (crimson, burgundy, berry), royal blue and purple/plum. These colours just make the most of my complexion. I stay away from green, yellow, copper and brown.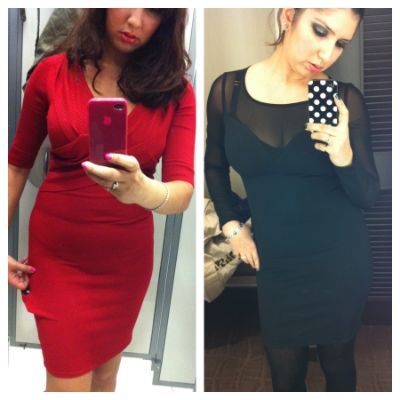 Wearing my favourite - form fitting dresses in shades of black and red

3. Not everyone has to be a denim and T kinda girl: I have a total of 4 jeans and barely any T's. I don't even own a lot of pants. I'm not planing on adding more to these except to replace to jeans/pants that are now too big (I dropped a couple of sizes recently). I know most people feel their best and most comfortable when wearing casual pieces, but I'm not one of them.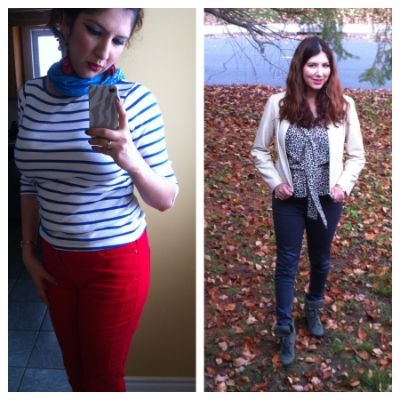 This is pretty much as casual as I would go...and not often

4. Minimal accessories: I love scarves and hats and wear them often. However when it comes to jewelry, I'm very minimalistic. You'll rarely ever catch me wearing earrings, necklace and bracelet let alone sport the "arm swag" trend. I would wear one statement piece and leave it to that. I'm a fan of dainty pieces when it comes to jewelry and less is more to me.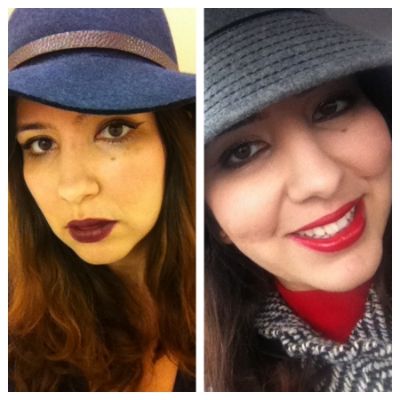 I love hats of all kind!

5. Hairstyle is key to making an outfit: instead of focusing on jewelry, I focus on hair. My signature is usually windblown and down. But I will do an updo, braids, high pony, straight hair...depending on what I'm wearing, the neckline of the top and the general mood I'm going for.

6. Wear heels: I don't care that I'm 5'7" tall; I still wear at least 3" of heels most of the time. I prefer my posture that way and most of my clothes look better with heels.

7. You don't need to follow trends: I'm well aware of trends, but not all will work for me. I was all about the burgundy shades and velvety textures this fall but you would never catch me dead in combat boots. Trends should fit into one's style instead of one's style fitting into trends.

8. Makeup world is your oyster: I have my tried and true combo of black cat liner and red lips but I'm a makeup lover and will always experiment with different looks.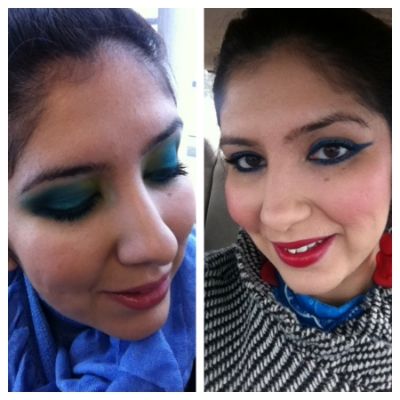 A bright and colourful eye makeup or my beloved red lips

Do you have a set style or are you in the experimental phase? How would you describe your personal style?