May 20, 2013

Happy Victoria Day to my fellow Canadians! And everyone else hope you all enjoyed your weekend. I thought I compile a post with outfits I've worn out and about the past few weeks. Most of these have already been posted on instagram. I recently dropped a size down (now wear a size 6) which is exciting but also means I need new clothes....though that's not necessarily a bad thing ;)

This is a bright coral shirt from the Gap I scored at their end of season sale in March. I'm slowly warming up to the idea of neons near my face. The skirt is from Bedo and the leopard print pumps are by Nine West: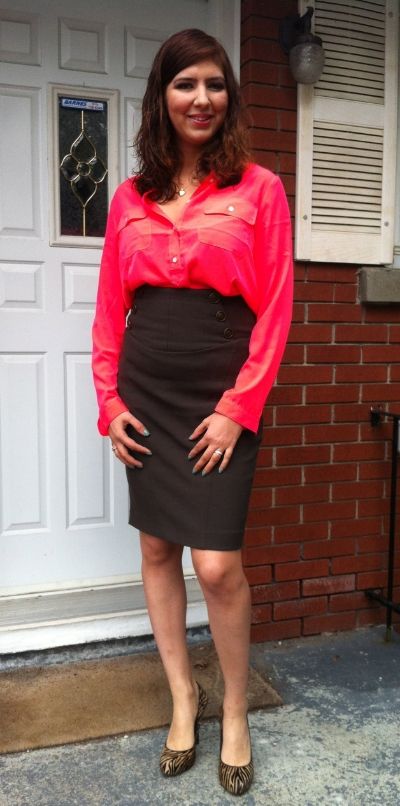 This outfit was worn on the first actual warm day of the year here in Ottawa. I had just picked up the paisley print shorts from Joe Fresh. I never had got anything for myself from there but I often browse their baby section. It actually fist pretty well. White button down is by Calvin Klein and the flat leather sandals are Gap (worn to death, I should have picked more colours when these were released a few years ago):



I love wearing short shorts as soon as the temperature rises. This pair of cream and brown stripy ones are by J.Crew and I wore them with a simple black tank (I think by Le Chateau) and the same Gap sandals. Of course I also wore Sofia in her Grey Galaxy Ergo :D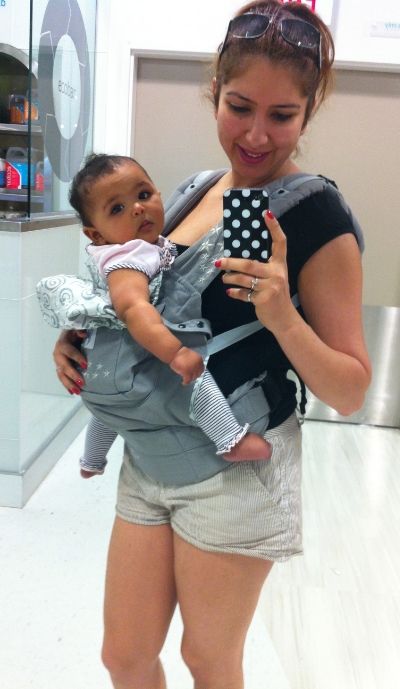 Grey animal print tank from Simons and black interlock skirt by American Apparel. I have this skirt in 4 different colours; it's super comfy: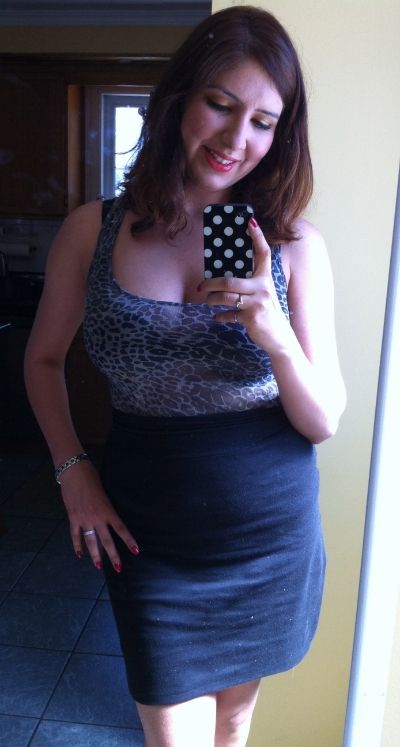 Outfit worn for a day of shopping in the mall; something chic but comfortable. Navy maxi skirt by BCBG and white tank by J.Crew, a delicate layered necklace by Aldo and Oh.My.God the same leather Gap sandals!!!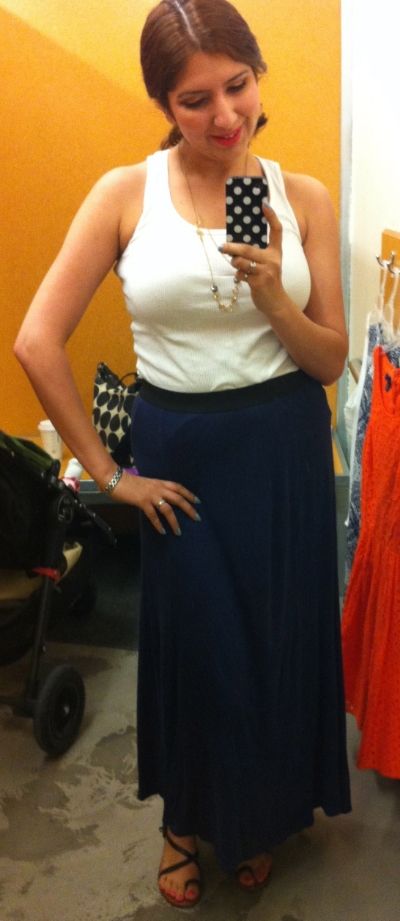 Lunch with coworkers outfit which consisted of a mint maxi dress from Forever21 (love love love it...this is the only shade they had left in my size), Aldo bib necklace and moto leather jacket by Danier Leather: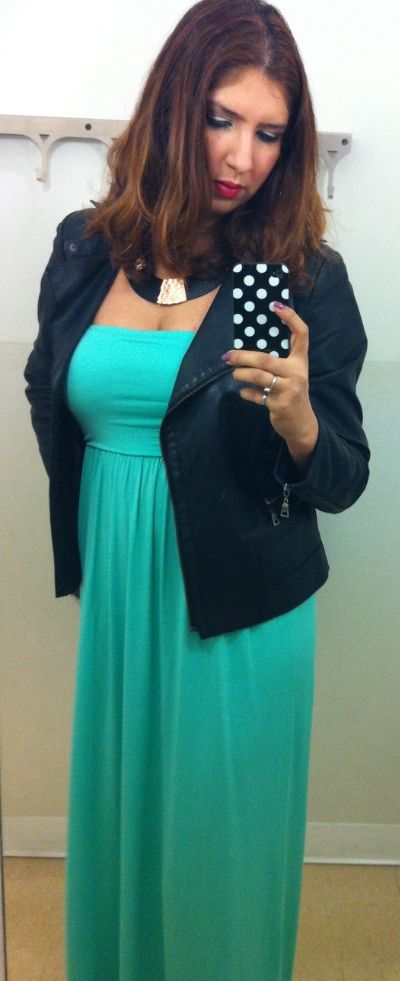 A more professional outfit worn to a meeting with my boss (I'm going back to work in 2 months). Red shift dress by Jacobs cinched at waist with a skinny leather black belt. Beige leather spring jacket by Danier Leather and the beige patent leather pumps are by Steve Madden. This is the type of outfit I wear on a daily basis when I'm at work: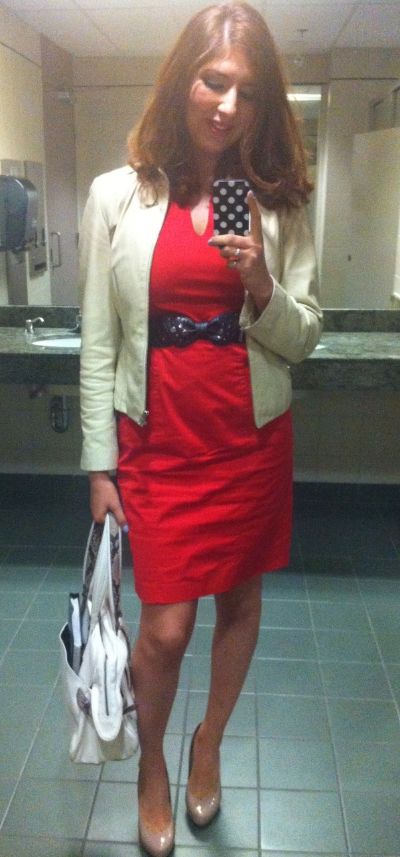 This is me wearing one of my only two t-shirts! I'm not really a t girl and all that I do own were gifted to me. This one I like as it has tattoo design on it. T-shirt by Guess, mint shorts by J.Crew, bejewelled sandals also by Guess: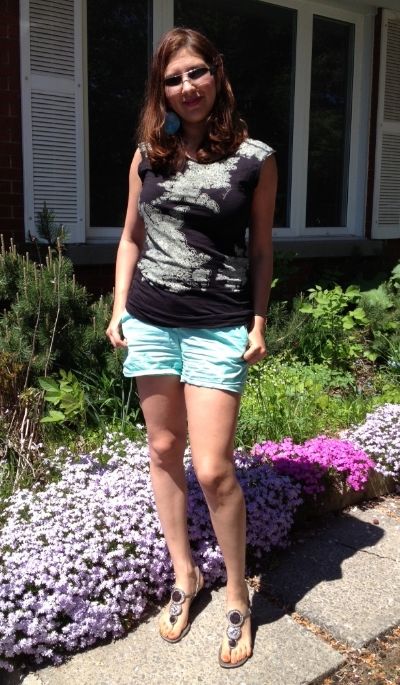 Last but not least, today's outfit worn to the annual Ottawa Tulip Festival. Navy shirt by Forever21, neon yellow relaxed pants by the Gap and wedge sandals by Steve Madden: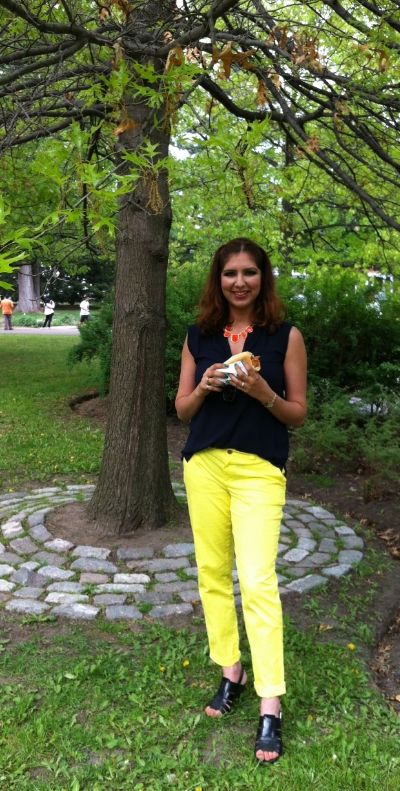 Before I wrap up this post, what do you guys think of a getting fit after baby post? I worked hard at getting my body back and was thinking of sharing what has worked for me with you guys :)