October 26, 2013

I know every blog has been posting fall favourites for the past 2 months. But fall really started here about 3 weeks ago, and I live in cold Ottawa, Canada. By fall I mean actual cold weather (temperature below 10deg), leaves all turning orange and cold rain....so I'm "technically" not late with my fall favourites post :)

Some of these products are new (well to my stash) and some I've been enjoying for a few years. I just have rediscovered them: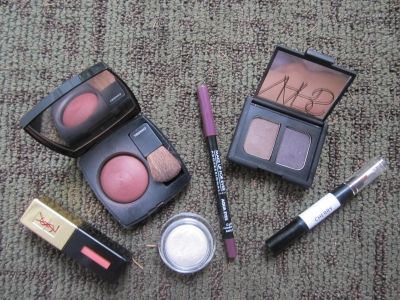 1. Nars Brousse eyeshadow duo - This duo is a favourite because I love smokey eyes, especially softer shades of smokey for fall. I usually wear the black violet shade on my lid, the sable shade in the crease and then smudge a black liner close to my lashline. It's a very easy duo to wear and the result is HOT! This is a product I come back to every fall.

2. Chanel Plum Attraction blush - another old favourite, Plum Attraction looks very bold in the pan but I use a powder brush to apply a bit on my cheekbones and love the effect it gives. It goes very well with Nars Brousse on the eyes too ;)

3. Dior Etoile fusion mono eyeshadow - I've been eyeing the Dior fusion shadow for months and two weeks ago I finally pulled the plug on shade Etoile, a gorgeous shimmering white. Etoile looks amazing on the tearduct or as an overall wash on the lid with my favourite matte shade in the crease (usually UD Naked or MAC Plum Poison). I debated between the Dior or the nearly identical Chanel product but went with Dior in the end as this particular shade was more pigmented and also you pay less for more product with Dior.

4. Makeup Forever Aqua Liner #4L - I'm a huge fan of the MUFE aqua liner for pigmentation and durability and 4L in particular gets a lot os use as I adore burgundy with my amber shade eyes. I usually wear this liner on the lower lashline and then smudge with MAC 229 brush.

5. Annabelle Cherry pencil - This shade is totally me, it's a reddened plum and goes with all the makeup described above. I get a good 4 hour wear with these pencils and the pigmentation is phenomenal. Definitely a drugstore gem!

6. YSL #27 (Peche chera-cola) Rouge Pur Couture - Another product it took me a while to try but glad I did. It's a pricy lip product but I love how soft and creamy this feel on my lips and it truly lasts a long time. I also usually have a hard time with peach shade but this one is very flattering on cool complexions.

Some swatches for you guys: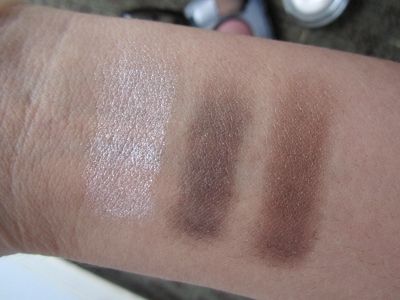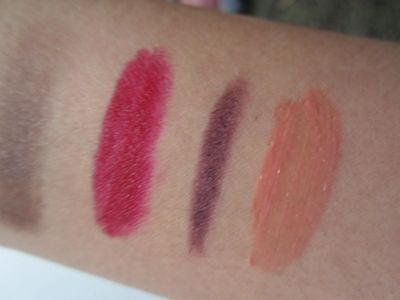 Oh and in other news I put in an order over at Sephora with my friends and family 20% coupon. I caved in and got the Hourglass powder palette and one of Nars eye paints. Cannot wait to get them and play. Did any of you guys get something from Sephora lately?