November 2, 2009

I had quite a busy and stressful day today. I was on site inspection all day, so busy I didn't get to eat lunch :/ They were also testing the fire alarm system so bells were ringing in my head from 8 to 4 pm! Finally, when I said screw this and left to go home, I got stuck in very heavy traffic coz there was an accident in the highway and they had also closed two lanes due to construction. But guess what? When I finally got home I saw my nail polish package from VNS waiting for me!! I am so excited, all the beautiful glittery and krome nail polishes!.

Before I post my haul pic, I 100% recommend VNS for buying nail polishes, at least if you're in the US or Canada. The lady I communicated with (Yen) was very friendly and she maintained communication with me until I received my goodies. The shipping price was fair and I got my package within 4 business days.

Here's a picture of my haul. Oh, the OPI and the Essie are from Trade Secret; I picked them up on Sunday but thought I include them with this haul. I will be posting swatches as I wear these babies!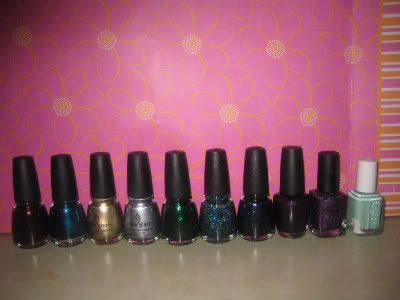 Left to right: ChG Stroll (Retro Diva), ChG Rodeo Fanatic (Rodeo Diva), ChG 2030 (Krome), ChG Sci-fi (Krome), ChG Emerald Sparkle (Holiday), ChG Atlantis (Glitter), ChG Meteor Shower (Glitter), OPI Merry Midnight (Holiday), Color Club Wild at Heart (Wild at Heart) and Essie Mint Candy Apple (Winter).

I cannot wait to wear these polishes. Suddenly my stress is all gone. Now off to cook some dinner. Hope everyone survived Monday!