February 20, 2010

I wanted to review the eyeshadow palette and pigment that Annabelle's rep kindly sent me for review since last week but we didn't have a single sunny day. I prefer to take pictures in bright days as I think the colours come out much truer. Since the sunshine didn't happen I decided to go for it today and use the "cloudy" option under my camera. I just couldn't wait anymore, lol!

I have been using Annabelle products (lip liners and eyeliners) for a while but this was my first experience with their eyeshadows and pigments.

The first item I received was pigment in Magentini:



First impression: there's about 1.2g of products in the pigment jar so you do get a decent amount. The jar opens with a click and there's small hole where you dip your brush to get the amount of pigment desired. On the bright side, it's very unlikely to accidentally topple over your jar and spill the pigment. On the downside, it's a bit difficult to get out the amount of product desired.

The colour itself is a happy medium pink; it's not too pale that it's almost white and not as bright so it would scare off the average customer. In the jar, Magentini (love the name btw) reminded me of Fuchsia pigment by MAC, though after swatching them side by side, Magentini is a lighter and cooler pink:



The colour payoff of this pigment is very good. I got the same payoff as my MAC pigment. And as with all loose products, Magentini would be much brighter if used with a mixing medium or simply wet.

The next item is my custom made quad with the colours Graffiti, Vivid Violet, Snow Flakes and Buff Naked: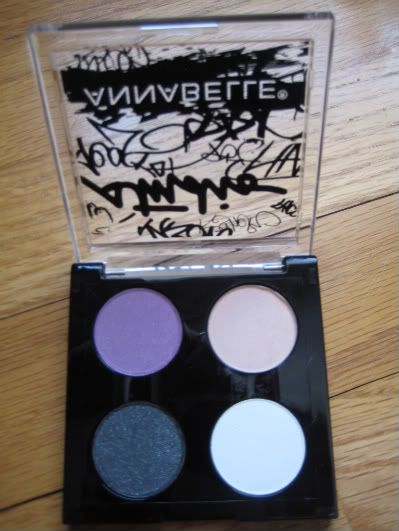 Let me start off by saying that I love Annabelle for coming up with the idea of letting us choose our own palette. I cannot think of another drugstore brand that gives you that ability. The quad itself is very sturdy and has a cute design. The glass front does not really hold finger prints which is a plus. I also love the funky design. Two thumbs up for the palette!

Now onto the colours:

Buff Naked is an awesome neutral, sort of a pinky peach (flesh tone) colour. It's great as wash of colour and as a highlight. It applies smoothly and his pretty much matte. I've been using this one a lot as my highlight.

Snow Flake is a slightly shimmery white colour. My stash was lacking a shimmery white and this is a decently pigmented white. Once again, the application was easy. I need to use this one soon in a winter wonderland look; possibly before the end of winter!

Vivid Violet is a lot like MAC's Stars n Rockets, but without the blue flash. It has tiny gold shimmer in it and is my absolute favourite colour in my quad. Vivid Violet is pretty pigmented and would look gorgeous paired without other purples or golds (because of its gold shimmer).

Graffiti on me swatches as a super dark green with silver coloured glitters. This eyeshadow is super pigmented! Wow, I honestly was ready to do two swipes but I got a great deal of payoff with just a light swipe.

Here are the swatches on my arm. Once again, the colours are much brighter IRL, damn you cloudy skies!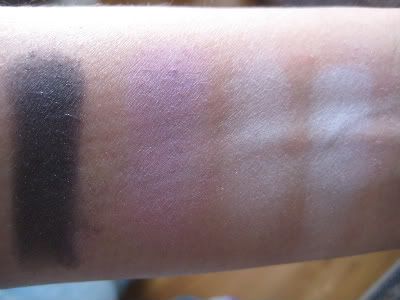 Left to right: Graffiti, Vivid Violet, Buff Naked and Snow Flakes.

Overall, I really liked my package. I was pleasantly surprised at how smooth the products apply and how pigmented they were. Annabelle is a great brand for the price you pay. I really wish they add more pigments to the line. It would be nice to have a more affordable alternative to pricier pigment brands (MAC, MUFE and Illamasqua).

Hope you enjoyed this review. Do you use Annabelle products? What is your fave product from the brand?