August 15, 2011
Hello my lovelies! It's been a while since I've visited cosmetics counters as I'm on a self imposed low-buy. I haven't even missed buying makeup, but I made an exception for two of Chanel's new nail polishes for fall 2011, Peridot and Graphite:
Now here in Canada we get the Chanel seasonal collections almost a month later than the US. Totally not fair and for those of you in the US, this post is old news. But I AM so excited about these two polishes. It's been a long time since a cosmetic product has had me excited, lol! I haven't worn Graphite yet but it looks like a gorgeous dark shimmering slate gray in the bottle. Peridot though I wore right away and I'me in awe of this beauty: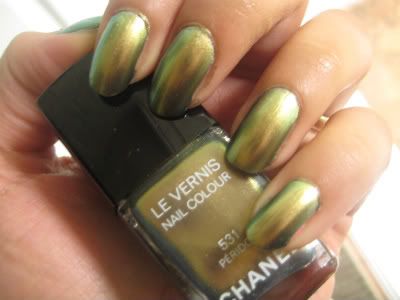 Peridot is a complex shade. These pics were taken in a cloudy day so it looks more greenish gold. The base colour is gold but it can look antique or green/gold in some lights and a metallic teal in others. Yep, you heard it right, it can even look TEAL!! I absolutely adore this polish. I must say I have over 170 bottles of nail polish and none look remotely similar to Peridot.
Ok, your turn now...have you picked up any of these two nail polishes? What is the last beauty product that just made you jump with excitement?