August 21, 2011
Arghhh this is gonna be a non-makeup related post; more on the fashion side of things (my other interest). I'm a huge fan of the show Mad Men. It's smartly done and I can really relate to the character of Joan (the gorgeous curvy red-head) on the show. I also love buying my clothes from Banana Republic. So when I found out Banana Republic was doing a Mad Men inspired collection, I was absolutely thrilled! I could not wait for the collection to hit the stores here in Canada. I must say I was a bit disappointed that the used a skinny girl to model "Joan Inspired" clothes but it didn't bother me that much.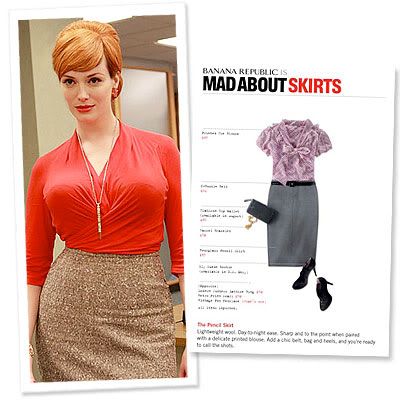 I went to my local BN this past Friday to see the collection in person. As expected, I loved many of the pieces inspired by Joan and took a few items to dressing room to try on. This is when the problem started. Many of the fitted dresses did not fit my ample chest. Frustrated, I called one of the SA's for help and see if I can get a size bigger. His answer was "sorry sweetheart, but we don't really cut for girls with a big chest." Now that is where I got pretty annoyed. Half of this collection is supposedly inspired by Joan who like me has an ample chest. I'm not really a large girl. I wear a size 8, have small shoulders and waist but a big bust. I was really hoping that this collection would be ideal for me.
I ended up getting a couple of tops but still left the store annoyed. The more I thought about the incident, the more angry I got. Was this collection for girls to feel like Joan or was in for girls who actually had a similar body to hers? I'm not one who believes in slogans like "real girls have curves" but real girls come in all sizes and I had been so excited about a collection that finally seem to cater to my body type only to be disappointed right away.
What is your opinion on this? Am I overreacting or expecting too much here?