February 12, 2012
Hello my pretties! I did some hauling this past week which for once did not include my basics and refills. Thought I share this haul and some quick thoughts with you.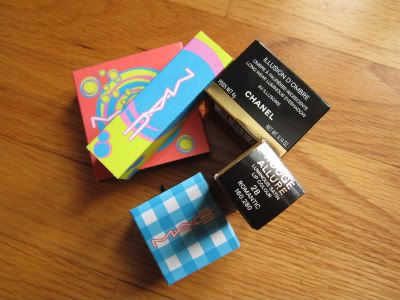 MAC Shop Shop Shop, Cook Cook Cook
Admittedly, I had not been to a MAC counter/store in about a year but this collection peaked my curiouseity. It is a pretty large collection too but I came away with a few items that were must haves for me.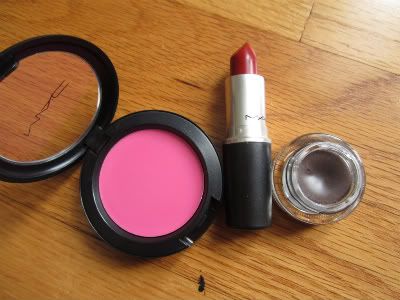 1. Runway Red lipstick (satin) - I know I know, I bought another red lipstick! But honestly I went through my 23 red lipsticks and none are exact dupe for this. It's a blue based red and somehow in between being vampy and retro. Gorgeous shade on me and I would imagine all skintones. Here's a swatch of it comparing it to some of my other reds (my inner arm is NW20):
left to right: Runway Red, So Scarlet (LE), Port Red (LE), Chanel Precious RA, MUFE #45, Chanel Famous RA (LE)
2. Added Goodness fluidline: I really like MAC fluidlines and the ones offered in this collection are so sophisticated. I purchased Added Goodness, a beautiful shimmery taupe. I don't have any liners like it. It applies soft and pigmented and is perfect for day time.
3. Florida creamblend blush - Now, I was first terrified of all three creamblushes as they are so friggin bright! But my fave SA applied each of them on my cheeks (lightly and buffed) and I fell in love with Florida. It gives me that beautiful flushed/glowy from within look.
And no haul is complete with a little Chanel....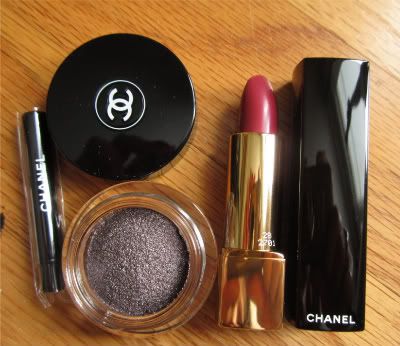 1. Illusoire Illusion d'Ombre: I had wanted to try these eyeshadows since their release in fall and finally got around to it. The Illusion d'Ombre have an almost spongey texture and are a gel/powder hybrid. They are long lasting, blendable, builadable and have a sophisticated shimmer to them. Illusoire is a purpley taupe, very unique to my collection.
2. Romatique Rouge Allure: I told my Chanel SA that I wanted a more demure lipstick but wanted to stay in my comfort zone of reds and berries. She recommended Romatique and boy was she on point! Romatique is a strawberry red with very smooth texture. It's beyond pretty on and really brings out the rosiness in my skin in a good way. I can see myself wearing this a lot.
What did you guys think of the latest MAC collections? What are some of your fave Chanel items?