October 8, 2012

Hey guys! I know everyone and their mothers were excited about MAC Marilyn Monroe collection, but I was counting the days to see Nars Warhol collection and stalking my local Sephora. Well, I mean I was going in once a week as it's kinda hard to get out that much with a 6 week old baby!

After reading reviews of the collection online, I decided I only wanted a couple of the nail polishes and snagged them up yesterday. My small haul consisted of Back Room (black) and New York Dolls (purple).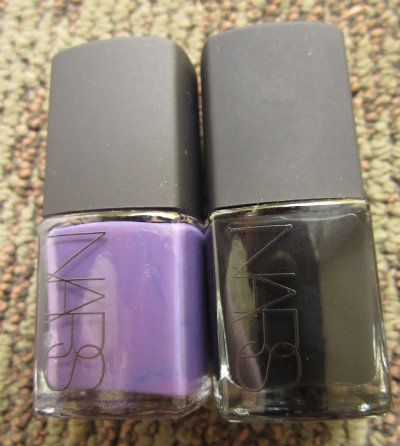 The nail polishes come in a silver box as opposed to Nars' usual black ones and are signed with Andy's name. The bottle themselves don't have special packaging though: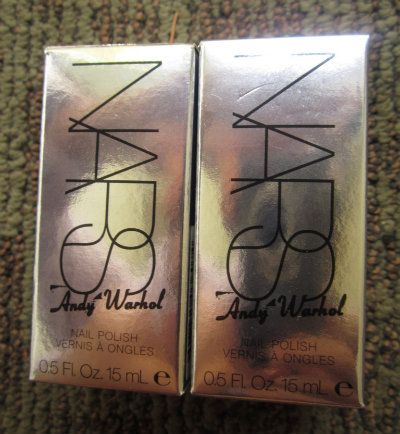 My experience with Nars nail polishes, unlike the rest of their products, is very limited and the only polish I own from them is Jungle Red. The first shade I chose to wear was Back Room. I found the formula very easy to work with; not too thin or too thick. The shade was opaque and shiny in one coat. It's rare for a nail polish to look this amazing with only one coat so I'm quite impressed! I think Back Room will be my new HG black (my old one was Misa I Will Survive).

Here's a quick swatch for you, pre-cleanup as I was trying to take pics before sunset:

I use black polishes quite frequently so this was definitely a great investment for me. I cannot wait to try on New York Dolls now! Will post swatches when I do :)

Oh and it seemed that I had enough points to redeem them for this lipgloss set. I'm not a gloss person but we shall see how these will perform:


Have you guys bought anything from Nars Andy Warhol? What are some of your favourite Nars polishes?