September 28, 2009

I went to my counter today to check out MAC's newest collection, DSquared. I must say, it's a nice little collection and includes two of the greatest MAC products ever, Sculpt n Shape duo and Feline khol liner.

I was personally underwhelmed by this collection since it came out after my love Style Black (lol) and the beautiful dazzleglasse cremes. I did some quick and dirty swatches just in case anyone is interested. I also wanted to do a quick review of the more buzz worthy items.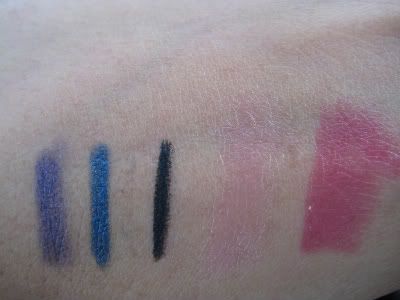 Left to right: Greasepaint Stick V, Greasepaint Stick B, Feline, Nude Rose and Blood Red

Greasepaint Stick V: is a gorgeous dark purple liner meant to be used as a base. I like the black GPS I have from Style Black but I was not interested enough to get a purple one.

Greasepaint Stick B: This one looks exactly like Deep Truth in GPS form! I would say if you wanna get one GPS, get either the black or purple one.

Feline: I have gone through two of these bad boys! It's the darkest hottest black liner ever! I use it on my water line and lower lashline. It does smudge on the lower lashline but not if you set with black eyeshadow. I def recommend this khol liner.

Nude Rose l/s: looks exactly like 3N! I would say get this if you missed out on 3N, a nude pink lustre lipstick, that came with the N collection. It's a gorgeous nude pink on a variety of skintones. In my swatch, it looks like it's the same colour as my skin...I guess I see why everyone say 3N is my best nude. Maybe I should go back and get Nude Rose

Blood Red l/s: is a pink berry lipstick and honestly not my cup of tea. I prefer more blue pinks or the nude ones. It looks a little like the berry lipstick that came out with Hello Kitty (the name escapes me now).

Sculpt and Shaping Duos: again get these if you don't already have them! The duo Accentuate and Sculpt work on anyone beween NC/W20 to NC/NW30. I have a full pan of Sculpt (the Pro Pan) and use it almost everyday as my contouring shade and my MAC shade is in between NW25 and NW30. I find it weird that they didn't include a duo for deeper skintones.

I came away with only Feline....well and another dazzleglass creme, this time Creme Allure.

What did everyone get from this collection?