January 8, 2010

Hey lovelies! This is my first entry post LASIK surgery and I'm happy to report that the procedure went very smoothly and I was told as of today I can take the big black shades off and use the computer in moderation. I won't be able to wear eye makeup till next Friday though. This is a good time to post hauls, reviews and some stash pictures. Thank you everyone for your sweet messages and emails during and after the surgery. I really appreciate it all :)

I placed a small online order for MAC Mickey Contractor last week. This was one of those limited collections and hence not available in my store. I also ordered from Peacocky collection and that post will be up on Jan 10th. I got Siahi Fluidline and Saffron eyeshadow from MC: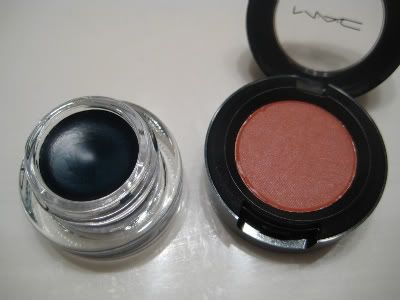 Saffron e/s is a burnt orange shade with satin finish. It has some red tone to it and prevents it to be a true bright orange. On my arm, it swatched effortlessly and I don't have anything like it so I'm a happy camper. Rusty oranges like this are great for coloured eyes. I find they bring out the gold and green flecks in my amber shade eyes. Here's some comparison:



from top to bottom: Off the Radar (LE), Saffron, MUFE #18

Siahi f/l is a deep turquoise shade. Another winner that swatches smoothly and true to colour. I have a few teal types liners but none are a dupe for this. I thought Lise Watier Black Teal eyeliner (LE - Holiday 2009) would be a close dupe but clearly not. The Lise Watier shade is much darker, like a black base with turquoise. MAC Delft p/p is much lighter and sheerer. See swatches below: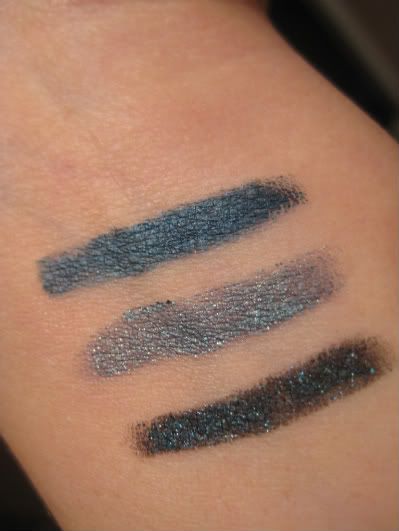 From top to bottom: Siahi f/l, Delft p/p, LW Black Teal e/l

I'm very happy with this sight-unseen order. Did you pick up anything from Mickey Contractor? How did you like your goodies?