January 11, 2010

I received another blog award from my lovely Nora at The Dollymix Diaries. Make sure to check out her great blog. She has great makeup tips and is super sweet.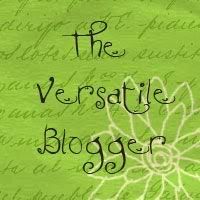 And now for the rules...
1. Thank and link back to who gave you the award
2. Share 7 things about yourself3. Answer 10 questions
4. Pass it along to 7 beauty blogs you've recently discovered and enjoy
5. Leave your recipient a note, telling them about the award
7 things about me:
1. I'm a very charming and friendly in person *pats self*

2. I'm afraid of birds, even plastic ones
3. I'm a lipstick addict and hoarder, have been since I turned 18
4. I change my nail colour every single day
5. I'm the only female working in my department
6. I grew up in three different continents
7. I'm a little bit of worrier and struggle with insomnia
10 Questions
1. Why did you create this blog?
My initial intent was to share my daily FOTD's. Beautyspot is still mainly about that

2. What kind of blogs do you follow?
Beauty, fashion and food blogs

3 Favourite Make-Up brand?
Nars, MAC and MUFE

4. Favourite Clothing brand?
I don't care much about labels. Anything that is cut well and fits my body

5. Your indispensible make-up product?
Lancome Hypnose mascara, the best ever!

6. Favourite colour?
7. Favourite perfume?
Dior Hypnotic Poison

8. Favourite film?
A tie between Pan's Labyrinth and Secret in Their Eyes. I like foreign and independent films

9. What country would you like to visit and why?
Spain, I think I will fit right in and I love their food and music

10. Would you rather forget to put mascara on one eye or forget blush on one side of your face?

Ugh I don't want to be one sided with the blush