April 25, 2011
Hey beauties! I haven't bought much makeup since February and have not been inspired by most collections out there (especially the MAC ones, getting super repetitive to me). But I am loving the info on Nars Summer 2011 Collection. If you've been reading BeautySpot for a while, you know of my love affair with Nars. I've been collection slowly for 3 years now and consider Nars my fave cosmetic brand. I mean check this out: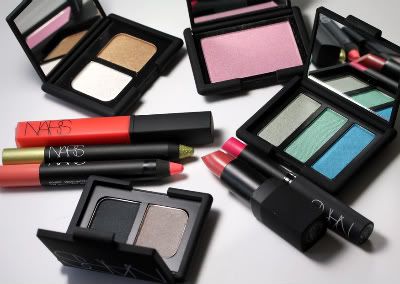 photo credit: makeupandbeautyblog
I got invited to the Bay Gala this coming Thursday and my Nars SA told me that they will have the summer collection out for sale. I will get my makeup done there too. I've done my makeup at Nars counter before and always loved the result. I have my wishlist already, this is what I'm thinking of purchasing:
-Dogon Duo -Metallic taupe with icy green sheen and charcoal black
- Wonder l/g - Shiny, sheer mandarin orange with pink andgold shimmer
- Bolero matte velvet pencil - Pink cantaloupe
- Mayflower l/s - Sheer raspberry with shimmer
I might also get Super Orgasm Illuminator. I loooove my Copocabana illuminatore right now but I think in the summer when I get tanner Super Orgasm will be better suited.
Have you guys bought (or will buy) anything from Nars summer? What is your favourite summer collection so far?