July 3, 2011
Hey lovelies! Hubby and I just got back from a relaxing long weekend in Mont Tremblant. We had rented a lake front luxury chalet with 4 more friends and spent Thursday to Sunday there sight seeing, sun tanning and especially eating, lol! As always, we had brought waaay more food than we needed, so we ended up all eating too much on the last day!
Here are some pics. To all my Canadian followers, happy belated Canada Day. To the US friends, happy 4th of July in advance :)
on our cottage balcony, July 1st:
View from the gandola in the Mont Tremblant Village:
Enjoying my smoke meat poutine. Boy how I love poutines! But I only eat it once a year, on Canada Day to be precise: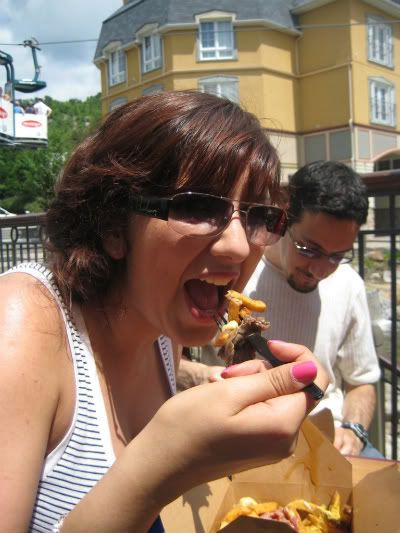 On the deck in front of our chalet. Spent quite some time here sun tanning...and got a nasty burn on my chest :(
Enjoy the rest of your weekend everyone!
Last breakfast in our gazebo: