July 17, 2011
Hey beauties, hope you've enjoyed your weekends so far. It's a pretty hot one here in Ottawa and made me think of another summer fave to blog about, gel liners:
When it's hot out, we all want to wear less makeup. One of the ways to look put together and summer appropriate yet not pile on products is to wear a bright eyeliner. I would say at least 3 times a week this is all I do, bright gel liner + mascara and head outta the door. My go-to liners this summer are Makeup Forever Aqua Cream Liners in #20 (gorgeous bright blue) and #22 (emerald green).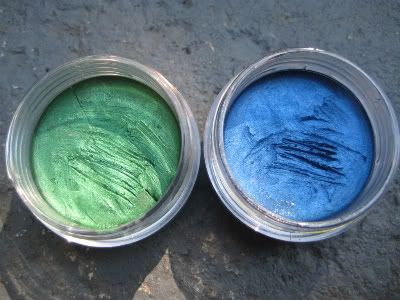 MUFE #22 on left and #20 on right
I love the MUFE aqua creams as they are bright and opaque in one stroke (I typically use MAC 209 and line around my eyes, upper and lower lashline). You get quite bit of products for the price which is $25CAD and the most important plus, they last all day long on me. I'm not a believer in using eye base when just applying eyeliner. These babies stay put through heat and humidity from morning to evening. I'm quite practiced with lining so it really takes me 2 minutes to do both eyes and yet I get so many compliments when I wear either of these two shades and no other makeup.
Here's some swatches on my hand for you gals:
MUFE #20 on top and #22 on the bottom
Hope you guys enjoyed this post. Have you tried the MUFE Aqua Cream Liners? What is your fave way to accentuate your eyes in the summer?