July 19, 2011
Hey beauties! I've meant to do this tag a long time ago and just never had a chance to photograph these products till last weekend. The lovely Ev at
Mozarella and Makeup
tagged me to do my favourite products. I changed it to 10 most used as I figured whatever I've used a lot has got to also be a fave :) Alright, here we go: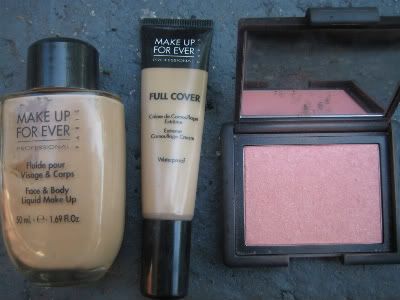 1. MUFE Face & Body foundation - I only have 1/4 of this amazing light water foundation left. I love the cooling feeling MUFE F&B gives to my face upon application.
2. MUFE Full Cover concealer in #6 - this concealer covers EVERYTHING! I mean it, I've never have seen a better concealer for my old acne scars.
3. Nars Deep Throat blush - have had this blush for nearly 4 years and use it about 3 times a week and you still cannot see the pan! Deep Throat is a gorgeous peachy pink, awesome on light medium skintones.
4. Lancome Hypnose mascara in Black - this has been my HG for 6 years now! I usually have about 7-8 mascaras in rotation and none ever get even close to the awesomeness of Hypnose. It adds volume to my long lashes, is super black and feel light and never flakes off.
5. Chanel Cassis e/l - this is the best smokey purple kohl liner there and I love that it's very blendable, does not smudge, does an amazing job of making the hazel peepers pop!
6. MAC Blanc Type e/s - can you see that I need another pan soon? Lol! I use Blanc Type as my daily brow highlighter. It's a great matte ivory shade, applies smoothly and blends well.
7. Bobbi Brown Cobalt Ink g/l - This dark navy gel liner is my preferred way of defining my eyes (I like it better than gel black). BB does superior gel liners that do not budge ever!
8. MAC Painterly p/p - this is my 3rd jar of Painterly which is my everyday eyeshadow base. I only have a teaspoon left too, lol! I like MAC's cream formula paint pots and the flesh pink shade of Painterly is great for my skintone and all my eyeshadows.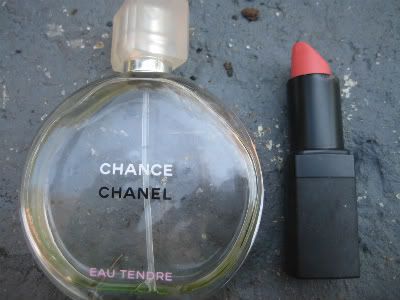 9. Chanel Chance Eau Tendre - The lighter version of Chanel Chance is my summer fragrance and you can't see in this pic but I def need a new bottle soon. It smells fresh and slightly floral (not too much so though, I don't like very floral scents) and like Chanel always does them, CHIC!
10. Nars Niagara l/s - The pinky coral shade of Niagara makes it a summer staple but I also wear this lipstick year around. It's on the sheerer side but incredibly buildable. This is a shade that will suite most skintones.
Alright my dear readers, you're all tagged. Feel free to do a post on your top 10 most used/fave products. Let me know if you're doing the tag so I check out your post :)