November 2, 2011
Hello beauties! It's been a long time since I've done a review on this blog. To be quite frank I have so much makeup that hardly anything ever impresses me enough to buy let alone review and rave about. But then came along the Chanel's Rouge Allure Velvets...aaaaahhhh....and here comes a rave!
As you know, I'm a lipstick fan and more than that, I love matte and bold shades. I'm always looking for the best matte texture in the market. I have tried and loved many: MAC Mattenes, Nars matte velvet pencils, Stila Long Wearing lipsticks, Nars Pure Matte,... and the list goes on. But never before the Chanel Velvets have I fallen head over heels in LOVE with a friggin lipstick!
The velvets are a new take on the matte formula. They are the most satin-y feeling matte lipsticks I've ever had the pleasure of wearing. They go on effortlessly and do NOT tug on my lips or settle into my lip lines. I get opaque colour payoff in just one swipe and up to 6 hours of wear time (including eating meals) out of these babies. Not even after a few hours of wear do these ever feel dry on my lips. How did they do it, I don't know! But I love Chanel for creating them.
The packaging is exactly like the usual Rouge Allure with the clicky tube. I find it pretty convenient personally and am glad they didn't change it. For now, I picked up La Sensuelle (deep red, has my name written all over it) and L'Exuberante (vibrant pink, gorgeous face brightening pink). But I know I will go back for at least two more. Thank goodness these are perm to the line. At Chanel pricing I couldn't possibly buy them all in one shot.
Here are some swtaches for you guys, all on NW25 skintone, naturally pigmented red lips: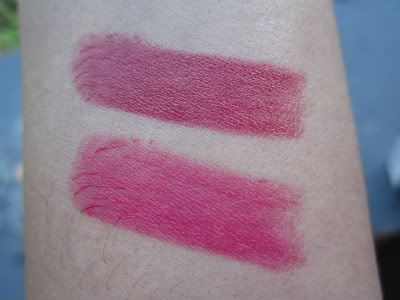 top: La Sensuelle, bottom: L'Exuberante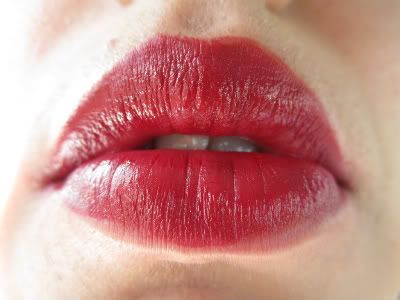 L'Exuberante on my lips - this one was taken on a cloudy day sorry for the lighting
Have you checked out the new RA Velvets? What is your favourite matte lipstick formula?