November 28, 2011
Alright here we go! First instalment of my new weekly series as promised on Friday. I thought I start with MAC as obviously they are one of the most popular brands (deservedly so) and also I've been buying MAC since I was 19 and went through a crazy collecting phase so it would be a fun one to start with. As you know MAC does many MANY limited edition collections. For the purpose of this series which is to recommend products I enjoy for you guys to go check out later, I will stick to permanent items.
This was a tough one though given the size of my MAC collection, but I did narrow it to my truly beloved top 5; some basic and some with colour intrigue: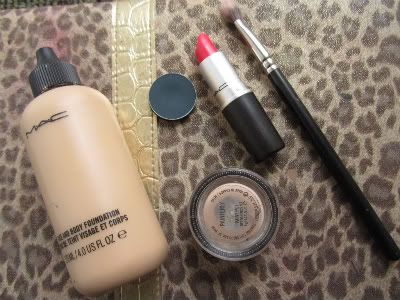 1. Face & Body Foundation (shade N2)
- I discovered this light foundation later in the game, about 2 years ago and I rate it as one of the best foundations of all times. Easy application, glowy finish and the price is right. Plus the bottle will last you forever. See my full review
here.
2. Painterly Paint Pot - This is a nice basic eyeshadow primer that works for me better than any primer I've tried. I like the nude and pinked toned shade that goes with every colour I put on top and the creamy texture makes it so easy to apply. Paint pots last 10+ on me without creasing. This is my 3rd pot of Painterly and as you can see I'm running very low.
3. Plumage Eyeshadow
- MAC is very well known for their eyeshadows and I must admit theirs are still my go-to after so many years. If I had to pick one though, I would go with the smoldering deep peacock that is Plumage. Great on its own for smokey eyes and awesome in the outer v and as a liner; the matte texture is a plus as it makes the shade more sophisticated. You can check out one of my many FOTD's featuring Plumage
here
.
4. 217 Blending Brush - The ever famous 217 is an amazing blending brush, ideal for depositing and blending colour in your crease and outer v. But it's also a great multitasking brush that can be used on your lids for a more diffused look and does a great job with creamy and liquid concealers. I've also used it to highlight/shade nose or chin area for more theatrical looks.
5. Impassioned Amp Cream Lipstick
- aaaahhhhh I could write pages about this colour! But I would say that Impassioned is jut HOT! I have so many bright lipsticks and I always come back to this vibrant warm fuchsia. I like it in the summer with a tan and in the winter to give my complexion a boost. See my full review and swatches
here
.
Do you guys own any of these products? What are you top 5 MAC Cosmetics products?