November 2, 2011

Hello lovelies! Here we have another lipstick stash post. Though technically, I'm cheating here. This post isn't about an existing lipstick, but a brand new one I picked up from Sephora this past weekend...oooops!
I got tired of waiting for Nars Holiday to arrive at Sephora so I went back and had another look at Nars Fall. I decided I need the super dark and gorgeous Train Bleu matte velvet pencil in my life. It's no secret that I love dark lips and none of my existing darks shades are quite as purple. For such a dark and matte shade, Train Bleu applies really well and doesn't settle into lip lines....loving it!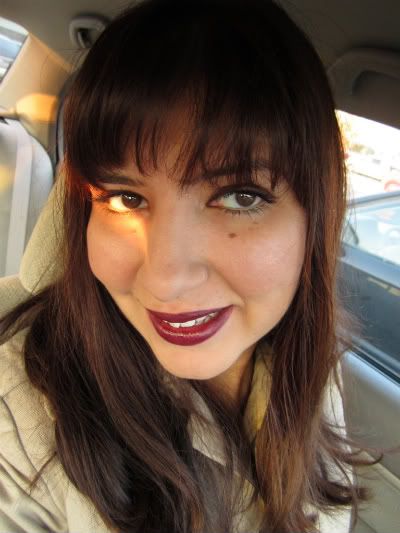 I'm not wearing much else in this pic. Just my usual Chanel Vitalumiere Aqua (BR20) on my face and a bit of Chanel Plum Attraction blush on the cheeks and then mascara on my eyes. I let this lips take centre stage.
Also, here's an outfit of day from last week when for once I remembered to take a pic. lace shirt by Bedo, pencil stretch skirt by America Apparel and of course my beloved Italian boots: