January 14, 2012

Hi guys! I went to my local Pharmaplus to get a toothbrush and walked out with all of this, hehe:




I've been meaning to give some of these products a try for the longest time and finally took the plunge.

I've already tried and loved Maybelline Color Tattoos. They apply smoothly and are very pigmented. I also love the glass packaging that very much reminds me of MAC Paint Pots. I would say the quality is also on par with the more high end cream shadows like MUFE Aqua Cream Pot, Sheseido cream shadows and MAC Paint Pots.

I purchased Barely Branded (LE) and Painted Purple. I adore Barely Branded and it reminds me so much of my beloved MAC Stilife though less white and more gold. Painted Purple is a gorgeous shade too though a tad more patchy. Still amazing as a base for purple eyeshadow but I probably wouldn't wear it on its own.





I also grabbed a couple of L'Oreal Colour Infallible eyeshadows. I keep hearing that these compare too GA Eyes to Kill and thought I should see for myself. Initial verdict is that yes, they are as pigmented and apply as smoothly as their Armani counterpart and of course cost a fraction of the price. I will do a more detailed comparison once I use them more.

I purchased Permanent Kaki, a beautiful shimmering olive. Reminds me of a less golden version of MAC Golden Olive pigment. Also bought Purple Obsession and holly molly this one is beautiful! Amazing purple, blows MAC Violet pigment out of water.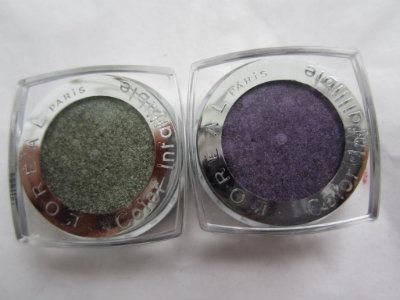 Last but not least, finally bought a couple of Revlon Lip Butters to see what the fuss is all about. I gotta say I see why people love these so much. They offer a wash of colour and are fairly moisturizing. The darker shades last much longer too. My haul includes Gumdrop (sheer violet) and Lollipop (fuchsia):


Do your guys own any of these products? What other shades would you recommend to me?