April 28, 2013

Happy Sunday guys! It's rare for hubby and I to have a date night now as munchkin is asleep by 7 pm. So my of dates are daytime activities. Last week we had my sister babysit though and we went out for dinner, just the two of us.

I took the opportunity to glam it up of course. This look was created on the fly though. At first I wanted to do a brown smokey eyes hence the brown base. Then I decided to do some teal to go with my nails, Chanel Azure (see post here). Finally I settled on a lined cat eyes with teal as the main colour. I quite liked how it turned out :)




Here's what I used:


For Face: Used Marcelle BB Cream (shade Light to Medium) as my primer and Nars Sheer Glow Foundation (shade Santa Fe) as my foundation. I then applied MAC Sculpt powder to contour and MAC Other Worldly blush (LE-warm peachy gold) on the apple of my cheeks.
For Eyes: Applied UDPP as base all over and Maybelline Rich Mahogany Color Tattoo as base for lids only. I then applied MAC Teal pigment with a mixing medium on the lids and blended up using MAC Wedge eyeshadow in the crease. I shaped the cat outer v with MAC Feline eyekohl which I then blended into the teal shade using NYX Black eyeshadow. I applied Lancome Black Art Liner the top lashline and Cargo dark teal swimmable eyeliner on the bottom lashline and finished with two coats of the Marcelle Twist it Up mascara.
For lips: I lined and blended my lips with MUFE 2C Aqua Lip Liner (nude rose), applied MAC Honeylove lipstick on top and finished with a bit of Nars Stolen Kisses lip gloss.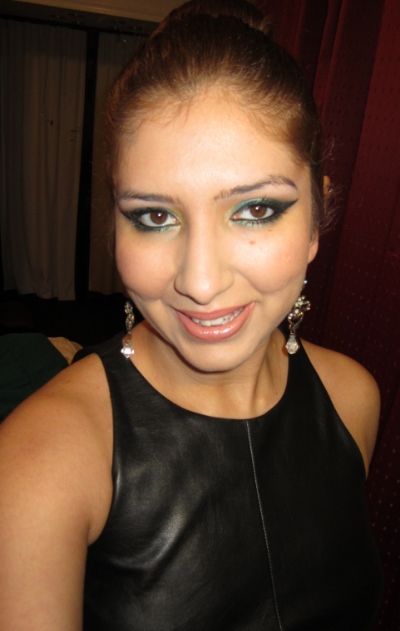 I did a sock bun to go with the glam look. I usually wear my hair down or half up when it's still chilly out so this was new for me. I also wore my beloved leather top dress by DKNY. I adore this dress as it fits like a glove and it's so comfortable. It's so me, fitted, black and curve hugging:
Hope you guys enjoyed this look.