August 15, 2012

Hi loves! Less than two weeks to baby and I'm definitely spending the time on errands I know will be more difficult to do first few weeks with baby here. I just made a huge amount of my favourite marianara sauce to freeze and use for pasta, lasagna and pizza later :D

Besides running last minute errands, I'm getting some blogging done. Playing with my hair, nails and makeup, of course! I have a simple nail design and a summer hair updo to show you today.



Galaxy Nails:
I got creative with my nails yesterday and got quite a few compliments from my girlfriends (was out to lunch with them). The galaxy nail design has been popping all over the internet beauty communities for the last few months. I finally gave it a go yesterday and was pleased with the results. Check it out: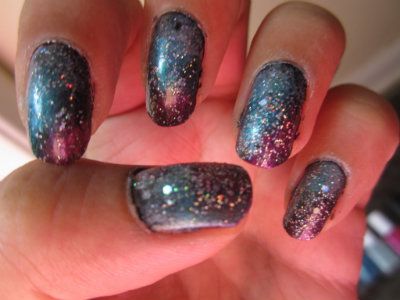 I used the following polishes for this look - Misa I Will Survive (black), OPI Teal the Cows Come Home (shimmery blue teal), Essie Sag Harbour (shimmery pale blue), Essie Super Bossa Nova (shimmery fuchsia) and OPI Serving up Sparkles (multi dimension white and silver glitter):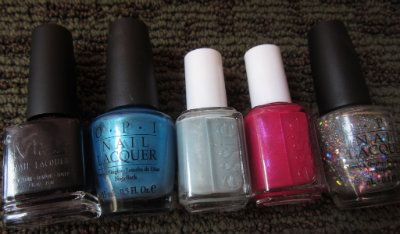 There are a lot of tutorials for this online so you can just google them. I watched a few and then kinda did my own version. You can do this with any nail polish shades you like. Just make sure you use a dark base, at least two colours to dab on top and a glittery top coat.
- Painted my nails with one layer of the black Misa polish, waited for my nails to dry.
- Used the edge of a torn makeup sponge to dab the light shimmery blue near the base of my nails.
- Used the sponge to dab the shimmery teal just above the blue, kind of like a gradient affect.
- Used the sponge to dab the shimmer fuchsia near the top right side of my nails (or anywhere really).
- Added a sparkly top coat
And here you have it again: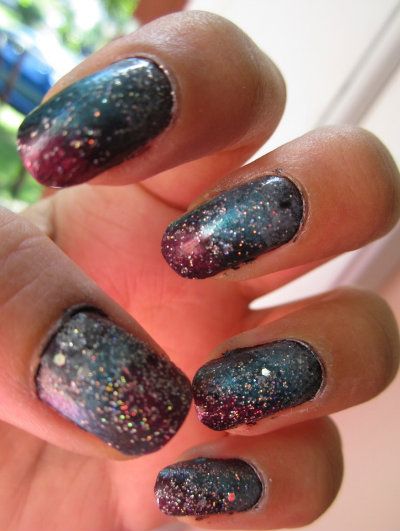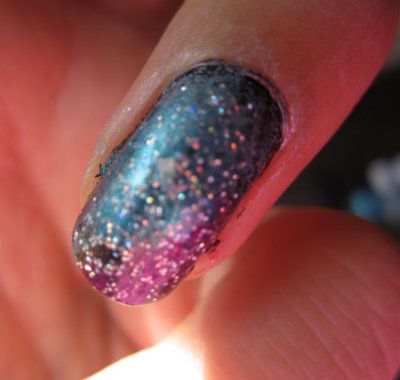 Simple Braided Side Bun:
I love having my face out of my face in the summer and always been a big fan of braiding. This is what I did for lunch with the girls yesterday: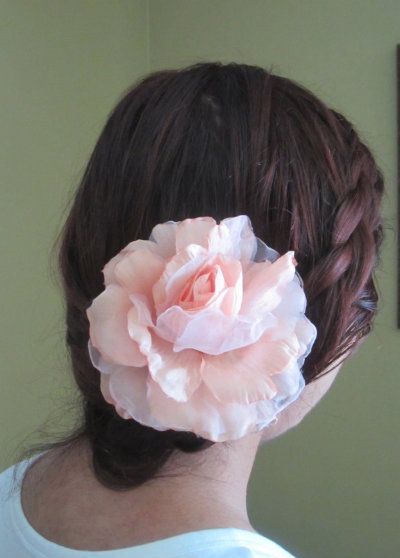 All you need to do is Dutch braid the front of the hair from one side (I start on the left to the right) down till you hit your ear and then join the rest of the hair and do a normal braid to have all of the hair combined in one singled braid. Once you're done, pin the braid up and if you like add an accessory. Mine is a peach flower pin from Forever 21 (cost like $1.99CAD):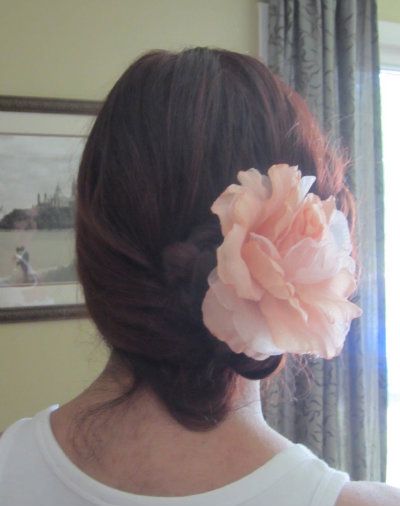 It's not as neat at the back but it was quick and simple. I do a variation of the same look a few times a week actually. Next time I'll have a once over before I ask hubby to take picture of my hair ;)
Hope you guys enjoyed this post. How do you wear your hair in the summer? What are some of you favourite simple nail designs?