July 3, 2012

Hey beauties! After many weeks of work, our baby girl's nursery is pretty much ready. I mean there are some little things that need to be done (like installing shelves for her books, getting clock/iPhone dock...) but I was happy enough with the progress to post the pictures at this point. We've even mounted her video monitor already :D

Colours: we waited on anything nursery till we knew the sex of the baby. Once we found out we were having a girl, we each picked a colour for her room. I picked coral and my husband picked green. So we went with soft coral, sage green and cream shades for her room: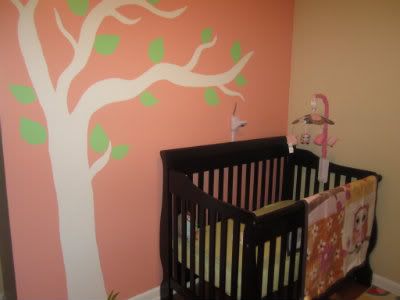 Theme: I didn't want to do the typical girlie pink princess theme. So we decided on owls for the theme. We tried not to over do it though and threw in different animals, birds and flowers here and there. We painted the room with help from my dad and my youngest sister helped us with the wall murals you see in the pictures (the tree and the owls). I think she did an excellent job: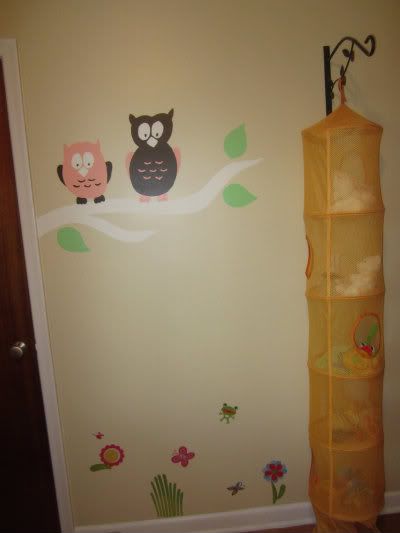 We are also on a budget as my husband is job hunting and I'm going on mat leave soon. So while we splurged on some key items (like crib, drawer chest, stroller,..) I found some great deals by shopping at Winners (the green lamp and the picture frame) and my mom made the curtains for us. We found the glider/ottoman on kijiji for an awesome deal and had the material dry cleaned.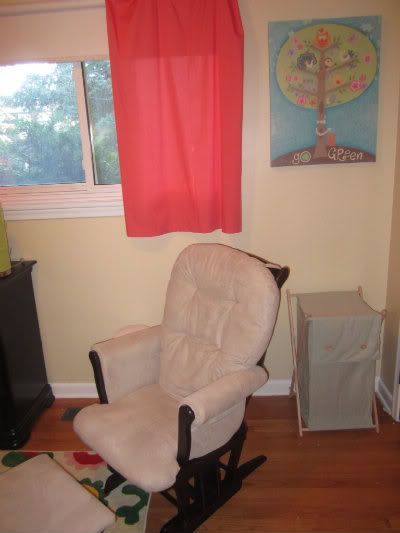 I've organized the boxes above the change table with basic baby supplies; one contains soothers and teethers, the other contains about 30 diapers and the last one has wipes and rash cream stored: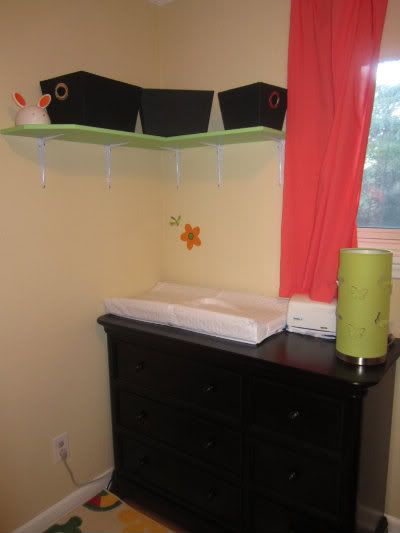 A peak inside her closet, where we installed the IKEA shelves for easier organization. For now I've only hung her 0-6 month dresses and winter suites in there: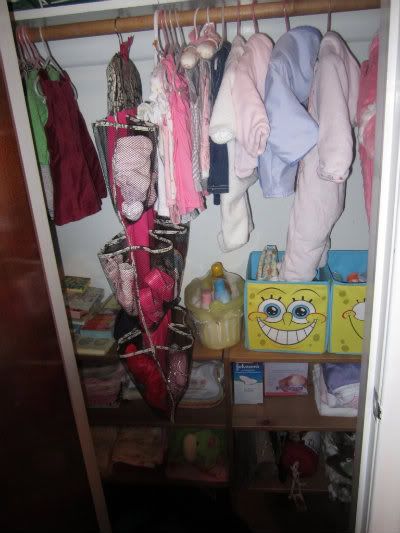 I organized things like her swaddling and receiving blankets, bibs, burping cloths, bathing supplies, towels, her Moby wrap and gray Ergo carrier and my own maternity supplies (nursing pads and creams) in here: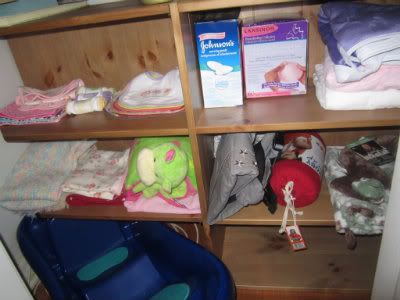 I found this organizer at Winners and love it as it has small pockets on both sides. So I put all her socks and shoes in one side and her mittens, headbands and hats in the other.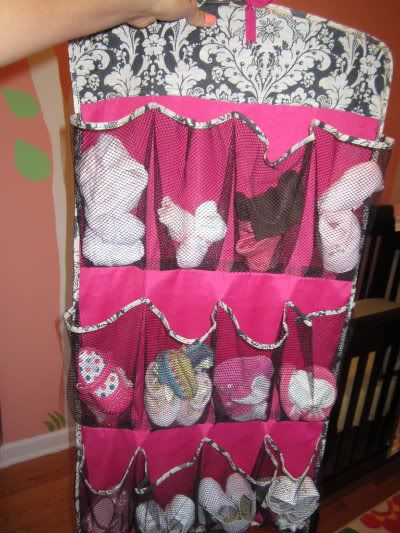 Finally, the first drawer contents, which is mostly 0-3 months onesies and baby wear. The rest of the drawers contain older size clothings: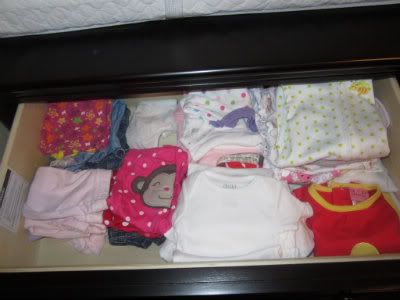 We also have bouncer, two different swings, play mat and her bassinet which will not be placed in the nursery. The plan is to have her sleep in the bassinet next to our bed for the first 8 weeks before she can have her room.

Hope you guys liked this post. I'm pretty proud of the nursery and happy to be pretty much done at this stage which I still can move about easily (I'm 32 weeks now).