July 9, 2012

Hello loves! This past weekend was quite busy for us as hubby and I did our maternity photoshoot on Friday evening and then attended the mehndi and wedding celebration of a very close friend of ours.

Day 1: For the Mehndi, I wore a summery yellow sari with blue/green flowers I had borrowed from a friend. It was quite challenging wrapping it and I think in the end I didn't quite do it right (my first time putting on a sari). For the makeup, I went matchy-matchy with my sari. My indian friends told me that's actually encouraged :D

Face
Lie Watier 12H Foundation/Concealer - Neutral
Sculpt
Prim n Proper blush (LE)

Eyes
UDPP - base
Inglot yellow w/s - inner lid
Biogreen e/s (Pro) - mid lid
One Off e/s (LE - bright green) - mid lid
Prussian e/s - outer lid and crease
Jewel Blue e/s (DC - teal) - above crease
Blanc Type e/s - highlight
Creme de Miel e/s (LE - light gold) - tear duct
BB Ivy Shimmer g/l - to line
Lise Watier Black Teal e/l (LE) - lower lashline
Lancome Hypnose drama mascara

Lips
Blankety l/s
Chanel Argonite glossimer




And here's some pics of me wearing my sari. My friend's blouse didn't fit as the blouses are always custom made to the woman so I just wore a teal tank top I had under it.




Day 2: For the wedding, I went for more dramatic liner and darker shadows. I wanted to incorporate the traditional Indian wedding colours (gold and red) and this is what I came up with. My Indian friends were pretty impressed actually :P

Face


Lie Watier 12H Foundation/Concealer - Neutral
Sculpt
Nars Madly blush
Shell Pearl bp (LE - soft peachy glow)
Eyes
UDPP - base
MUFE #99 (red) - above crease
MUFE #39 (cranberry) - inner and outer crease
Smoke Signals p/m (LE- dark burgundy) - inner and outer crease
Sugarpill Golidlux p/m - mid lid
Solar White e/s - highlight
Lancome Black Art Liner - to line
Lancome Hypnose Drama mascara
Lips
Chanel Romantic RA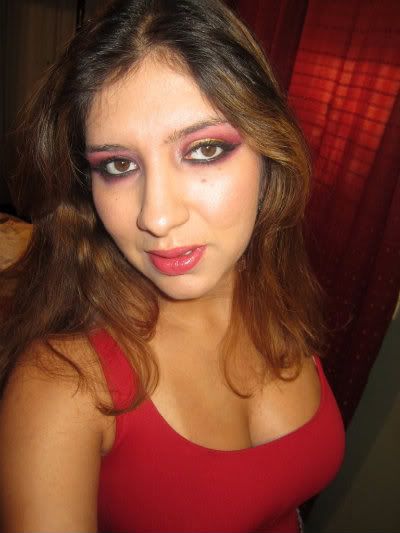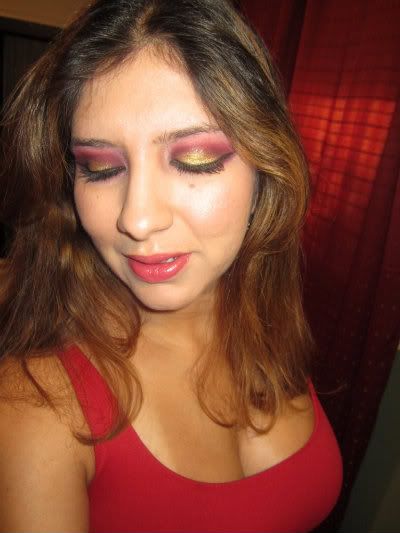 And here's the next sari (borrowed from the same friend so it's missing the blouse). I wore the same style tank top as the day before only in red to compliment this sari: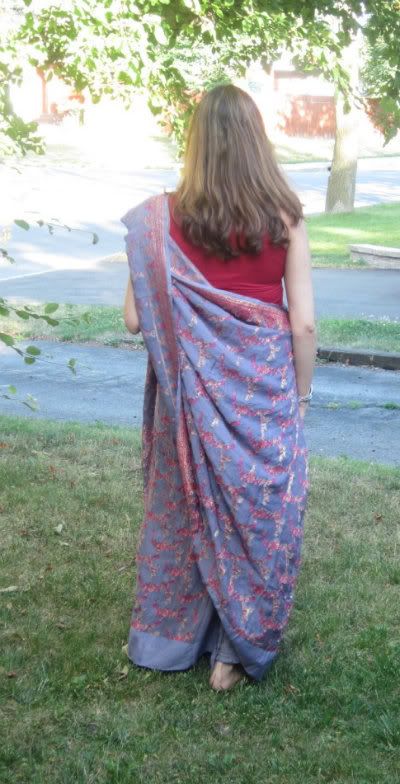 I had quite bit of fun at both events and dressing up for them. My biggest gripe is that I'm VERY minimal with jewelry and no matter how much I tried, I just couldn't pile up the bangles, necklace AND earrings that most Indian ladies too. It was still fun wearing the saris though, it makes one feel like the queen :D
Hope you enjoyed this post. Have you guys ever dressed up in ethnic clothing of a culture that is not your own (like me and my sari here)? Did you feel comfortable or did you think you stood out for miles? I felt like everyone was looking at me as I didn't think my sari was tied right, lol!