July 5, 2012

Hello beauties! I'm not one to really change my makeup looks based on season. I don't personally believe that there are colours of eyeshadow or lipstick that are better for summer than winter. I wear what I feel like, depending on my mood and not the season.

However, I do change my face routine. I switch to a lighter moisturizer, heavier sunscreen (I wear SPF50 on a daily basis) and different texture of foundation. I also wear more bronzers and illuminators. I live in Ottawa, where the summers are brutally hot and humid. A cakey foundation on my face is just not gonna cut it! Here are some of my fave face products:

Foundations: I alternate between these two products. Some days I wear Nars Tinted Moisturizer (shade Alaska) which I've reviewed in details here. It lasts 7-8 hours on me and the finish is gorgeous. Other times I go to my trustee MAC Face and Body foundation (shade N3) as it is also very light and blendable. I do have to set this one with powder though: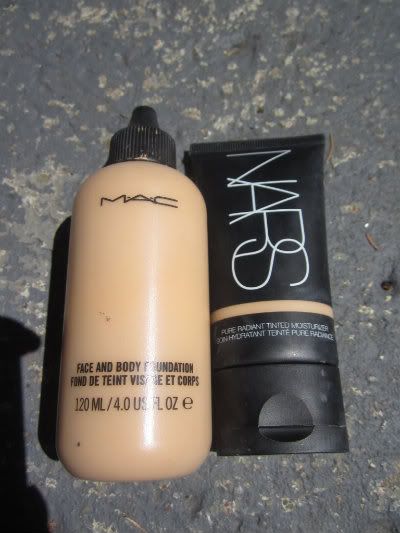 Bronzers/blushes: I bronze my skin pretty much every single day. I do switch to darker shades in the summer though. Nars Irressistiblement is gorgeous on light to medium skintones and I adore the terracotta shade. I also use my Too Faced Sun Bunny frequently when I'm too lazy to wear any other makeup. It's shimmery but very flattering. I alternate my blushes based on what I'm wearing but MAC Instant Chic (LE - light pinky coral) gets the most use: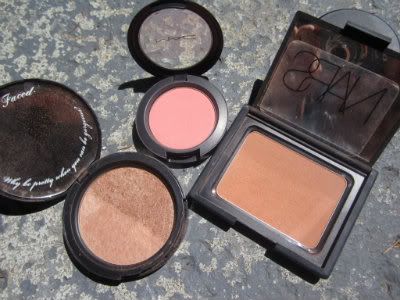 Highlighters: I do not leave the house without my bronzer/highlighter combos. Bobbi Brown Nude Shimmer Brick is gorgeous on its own or over any neutral blush. MAC Sunspill loose beauty powder (Pro) is a beautiful lit from within shimmering golden peach. I absolutely adore MAC's loose beauty powders (but not sure if they're still available). Another summer face is MAC Chez Chez Lame (LE) which is a pale golden shade. Not shimmery, just sophisticated glow: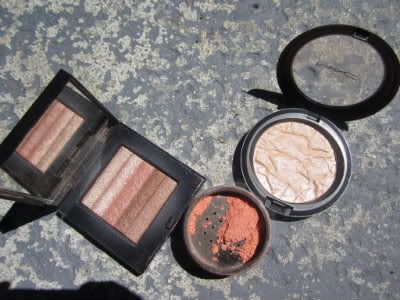 Hope you find this post helpful. What are some of your favourite summer face products?