June 29, 2010

Hey guys! This past Sunday hubby and I got professional photos taken for our 3rd wedding anniversary which is coming up on August 11. We used the same photographer that we had for our wedding since we were extremely pleased with him. We both had a tone of fun during the photo shoot and cannot wait to get the actual pictures. I will be sure to share some of them with you guys on here :)

I went with neutral eyes and bold pink lipstick as I've heard that's my best look. The eye look I've prob done 1000 times, it's my go-to neutral combo. I was very annoyed with my hair though. I flat ironed it but it was such a friggin humid day (humidex of 85%) that it would not stay straight, arghhhh! I hope it still looks good in photos though.

Face
Nars Sheer Glow foundation - Medium 1 (Punjab)
Ben Nye Powder
Sculpt
Nars Desire blush

Eyes
Painterly p/p - base
Blanc Type e/s - all over lid *hit the pan on this*
Espresso e/s - crease
Cork e/s - outer lid
Embark e/s - outer v
Wedge e/s - above crease
Vanilla p/m - highlight
Blacktrack f/l - to line
Feline e/k - tightline
Lancome Hypnose mascara

Lips
MUFE 16L l/s
Nars Schiap l/s
True Babe l/g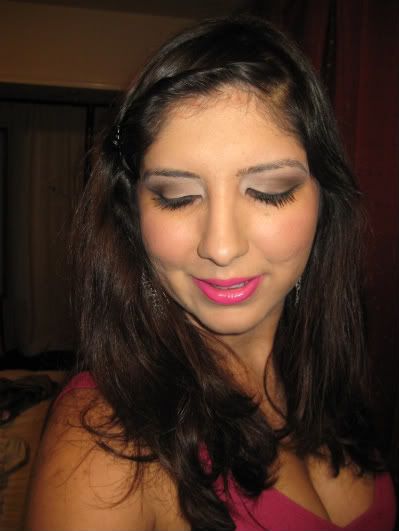 and this was one of my outfits, I changed into something else after dark (photoshoot was from 7:30 pm to 9:30 pm). Both dress and shoes are from a random boutique in Montreal.