November 17, 2010

You all know that I have a tendency to buy a lot of lip products. What you might not know is that I'm also always looking for the next best foundation. I have about 10 bottles in rotation and though that's probably enough, I still feel like there's something even better out there.

I acquired a sample of the newest addition to MAC foundation family, Pro Longwear, with skepticism. I'm very wary of MAC foundations in general as they tend to transfer and also never seem to have the exact colour match for me. But I'd heard so much rave about this one that I gave it a shout. I must say I loved the sample enough to go and buy a full size. After wearing this foundation for almost 2 months, I'm ready to do a review:

MAC Pro Longwear is hands down the best MAC foundation I've ever tried. It's definitely the longest lasting foundation in my stash. I do not need to set this with a powder and it still lasts with no shine on my combination type skin for over 1o hours. The coverage is closer to medium than full which I like. I find the application pretty easy and breezy. I use MAC 187 and it applies smoothly and evenly. I love how this foundation looks on my face, it's matte but not flat; like a beautiful satiny smooth finish. I also find that this foundation works best without a primer; wearing a primer made the formula a little slippery and the application more difficult for me personally.

My biggest gripe as I mentioned with MAC foundations is the colour matching. I find the line to lack in more neutral/beige undertones. I was matched to NW25 in this foundation (which is normally my match) back in early September and it worked pretty good. I do find it a bit orange on me now that my tan is fading though but manage with a lighter powder on top. It's slightly darker than Studio Fix Fluid in NW25 but slightly lighter yet more orange than studio sculpt in NW25. I would say definitely get matched before you buy even if you know your MAC shade.

Some pics for you: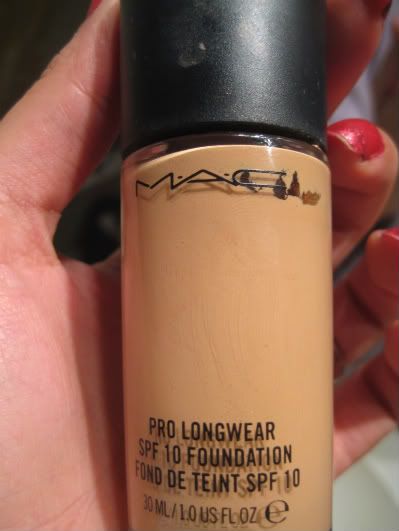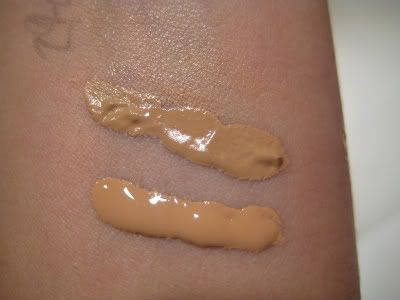 studio sculpt (NW25) on top, pro longwear (NW25) on the bottom. Couldn't find my bottle of studio fix, sorry guys :(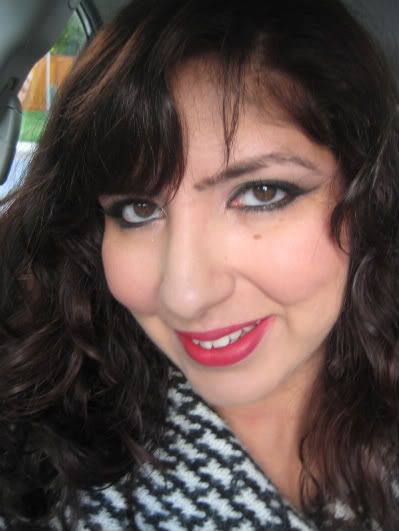 picture of me wearing MAC pro Longwear in natural daylight setting back in late September

Have you tried MAC's Pro Longwear Foundation? How do you like it? What is your favourite foundations?