November 8, 2010

I know, I know...I'm really late with my monthly faves but somehow I had too many other posts lined up and forgot about it. I still am behind in my posts though. Besides a few more looks, I also have some Marcelle skin care products to review and my Tried and True episode to do as well. Anyhow, moving on to the faves: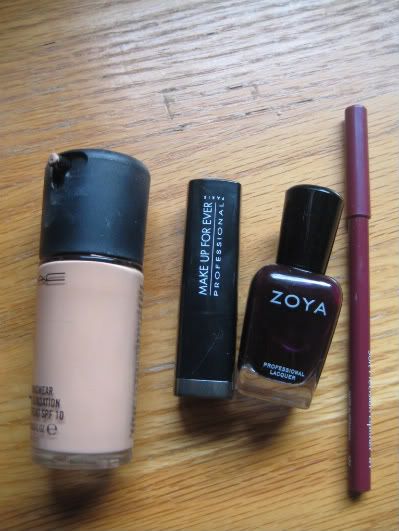 1. MAC Pro Longwear Foundation (NW25) - I really this foundation, perhaps the best MAC foundation to date. You only need a bit to get medium coverage and it lasts and lasts and lasts! I don't even have to use a setting powder. The only problem is that I'm losing my tan and this shade is already kinda orange on me :/ which is weird coz NW25 in studio fix is great even in the winter. I prob need to go a shade down or something soon.

2. MUFE Rouge Intense in #13 - this is a frosty wine shade lipstick that is one of those great fall shades. I have many dark and vampy lipsticks but this one is somehow more festive. I think it's because of its finish and the fact that it looks gorgeous with gold gloss on top. Loves it!

3. Zoya Casey nail polish - continuing on my vamp loving side, Zoya Casey is the best vamp shade ever made in history of nail polishes. There's just something about this smoldering deep wine shade. I always get compliments when I wear this polish.

4. Inglot Lip liner Shade #861 - this is a great berry lip liner to own as it goes with most fall lipsticks of wine and berry tones. Inglot is obviously famous for their ultra pigmented eyeshadows but I find their lipliners are also soft, pigmented and long lasting. What else could you want?

Do you own any of these products? What are some of your October Fave products?