February 27, 2011

Since we're almost at the end of the month, thought I show you this month's favourite beauty products on time for once: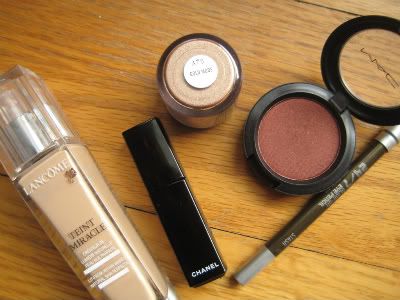 1. Lancome Teint Miracle foundation - water based foundations are big this year. Despite what you might think, I find they actually cover better than less water products. Lancome Teint Miracle is a winner in my book with its medium coverage, longetivity and great shade matching. See my full review here.

2. Chanel Coramondel Rouge Allure Laque - I was craving orange reds big time this month and one of my most used lip products was Coramondel. Rouge Allure Laques are very opaque, last a long time and in my opionion the best lipstick formula in the market.

3. MAC Gold Mode pigment - this pigment was a CCO find and one of the best yet. Gold Mode is a peachy gold with great texture, it's definitely not one of those chunky pigments. I've been using this pigment non stop since I got it.

4. MAC Spectacle of Yourself eyeshadow - this burgundy brown eyeshadow was an LE shade released last month. It wears smoothly and effortlessly. Spectacle of Yourself is the miracle shade for making amber/hazel shade eyes like yours truly pop.

5. Urban Decay Stash 24/7 eyeliner - I've had this shimmery olive green liner for over two years now but somehow been using the heck out of this this past month. Stash is great on the lower lashline with the gold/neutral eye looks I've been sporting.

Do you own any of these products? What are your top 5 products for the month of February?