February 14, 2011

Hey lovelies and happy Valentine's Day if you celebrate it. I just got back from Indianapolis where I had traveled to for my best friend's wedding. It was a pretty quick trip for us and ran into lotsa unfortunate events on our way there (our flight getting canceled in Chicago, our luggage almost getting lost) and hardly got any sleep for the 3 nights there. But the wedding events and seeing my girl all happy and glowy made it all worth it for me :)

I wore a pale pink short dress to the Mehndi ceremony and did girlie pink makeup to match. I also did three of the other girls' makeup but was too rushed to remember to take pics :( Hope you guys like this look:

Face
Pro Lonwgear NW25 - OMG this shade is sooo dark on me now, thank God you can't tell in pics coz I'm wearing SPF under it :/
Nars Desire blush

Eyes
UDPP - base
MUFE #112 - inner lid
MUFE #15 - mid lid
Fuchsia p/m - outer v and crease
UD Naked e/s - above crease
UD Virgin e/s - highlight
UD Sin e/s - tearduct
Chanel Cassis e/l - to line
Lancome Hypnose mascara

Lips
MUFE 16C l/l
Nars Schiap l/s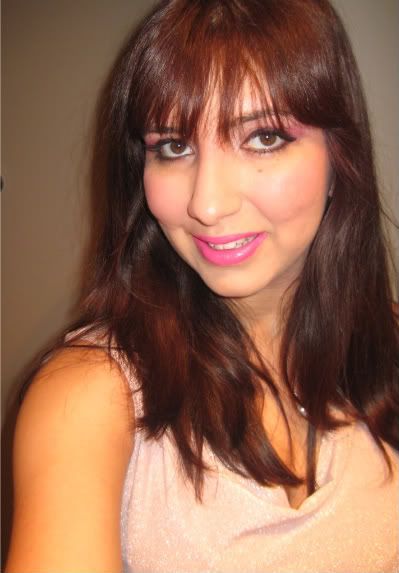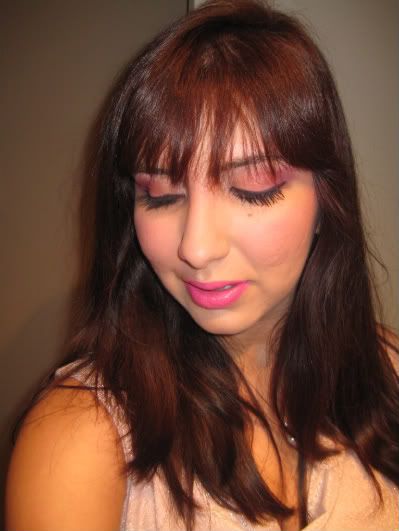 The bride (in the middle), another good friend and me. My dress is by Forever21 and shoes are by Nine West. I wish I had a sari to wear, lol! I felt kinda different from everyone else.




I had never before attending a mehndi before (an Indian henna ceremony, typically held the day before the actual wedding), so this was quite bit of fun for me. The bride's cousin even did a henna design on the palm of my hand which was quite intriguing for me. Here she is at work:




Hope you guys enjoyed this post. Have a lovely week!