February 21, 2011

I know it's only February, but it's already a lot warmer and some of snow has melted here in the Capital. Since coral and pinks are my favourite spring shades, I thought I show you guys some of my favourite lipsticks in these two colour families.

I will start today with my top 5 coral lipsticks. It was a hard task as I love all my coral lipsticks:

1. Nars Niagara - This light pink coral shade is one of my favourite lipsticks (and I own plenty of lippies). It's one of Nars sheer lipsticks but it has great coverage on my pigmented red lips and the colour shows true to tube. This is one of the prettiest shades of pinky coral I've ever seen. Very low maintenance, you can wear it without a lip liner.

2. Marcelle Rouge Xpression in Paris Rose - This is a light no-fuss coral lipstick but again packs a punch. It's very comfortable wearing and gorgeous on both cool and warm skintones. You can apply one layer for a sheer look or layer more if you prefer a more opaque finish.

3. Chanel Teheran Rouge Coco - the Chanel lipstick bearing my hometown name is more of a shimmery coral, very much on the pink side though. The shimmer is not too obvious to make it frosty, just very girlie and pretty. Teheran wears opaquely for 4-5 hours and is specially flattering on cooler skintones. I always get a tone of compliments when I wear this shade.

4. MAC Vegas Volt - this bright coral shade (and the warmest in my collection) is a summer staple and is one of MAC's hidden perm line gems. Vegas Volt is a brighter shade of coral so this is not for the faint of heart. If you're on the cooler side of the spectrum like yours truly, try pairing it with pink lip liner/lipstick. I personally like to wear Vegas Volt with Big Bow lipstick or Trimmed in Pink lip liner. For warmer toned ladies, wear it bold and proud :)

5. Chanel Genial Rouge Allure - this limited edition shade from last summer is my personal fave when it comes to neon corals. It's bright and in your face but totally gorgeous! I wore the hell outta this lipstick last summer and cannot wait for warmer months to break it out again. Rouge Allures are very long wearing and you can an achieve opaque finish in one swipe.

Some swatches for you guys. All with no base on my inner arm (which is about NW20):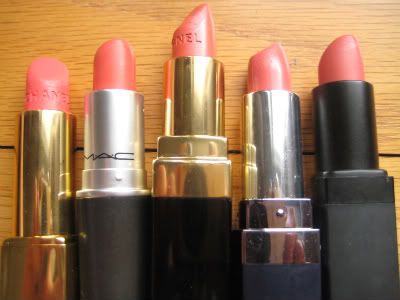 Left to right: Genial, Vegas Volt, Teheran, Paris Rose and Niagara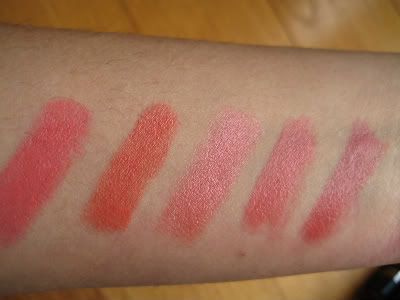 Left to right: Genial, Vegas Volt, Teheran, Paris Rose and Niagara

Hope this post was helpful to you guys. What are some of your favourite coral lipsticks?