February 1, 2011

Hey lovelies! Welcome the first edition of monthly faves for 2011! I've been loving a lot of products this month so I had a hard time picking up my absolute bests. Here's the final 5 though: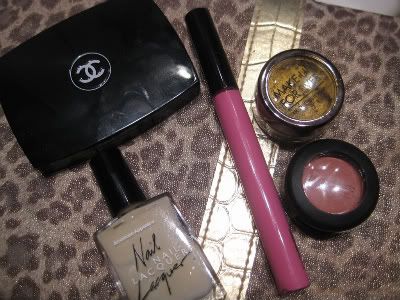 1. Chanel Ombres Perlees - I am in love with this new Chanel quint! I had never before used Chanel eyeshadows (only their face and lip products) and I am so happy with this purchase. All 5 eyeshadows have a very pearly finish and look so polished and sophisticated on the lids. I mix and match these shades with matte finish eyshadows for the best result. Big love!

2. MAC Saffron eyeshadow - this was a limited edition from Mickey Contractor. Saffron has a satin finish and is a red toned orange on my lids. It applies very pigmented and does a great job of making my hazelish eyes pop. Great job MAC!

3. Makeup Forever Gold Metal #3 - this is an amazing green gold pigment. The pigment particles are very small and make this shade go on like butter! I have been wearing Gold Metal #3 with other greens and golds in my stash and loving it even more after every use.

4. MAC Vanity Fair Kissable Lip Colour - This barbie pink lipstick is a fave coz it's easy to apply and lasts through meals and kisses. If you're a fan of Snob, Pink Nouveau or St Germain, you will also like Vanity Fair. It's a very wearable and elegant pink on my skintone.

5. American Apparel California Toppin nail polish - ok, I'm a big fan of American Apparel in general. But their nail polishes are something else. They have amazing classic as well as trendy shades and their formula is excellent. I've been reaching for this nude gray shade particularly this past month but all their shades are love.

Do you have any of the mentioned products? What beauty products made it to the top of your Jan fave list?