February 10, 2011

Hey beauties! I have a new fave foundation I've been using regularly for the past week. I love this foundation so much that I actually dare declare it my new everyday holly grail. I present you, Lancome Teint Miracle: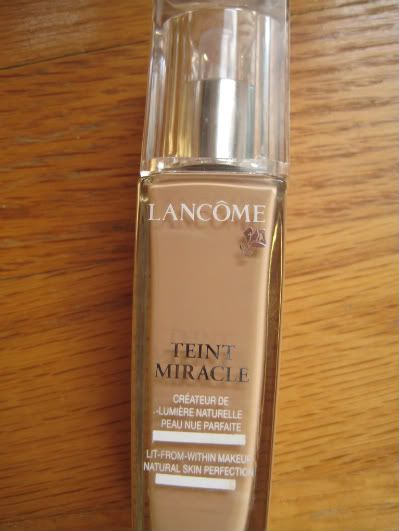 Formula - Teint Miracle has 40% water so it's a light weight foundation. It pretty much feels like nothing on as it's a sheer yet buildable formula. It looks incredibly natural on and the finish is gorgeous and satiny. I feel fresh and awake when I have this foundation on. I have combination skin and find that this lasts on me 8-10 hours (without the use of translucent powder). It's not a full coverage foundation though so you will need to use concealer on blemishes/scars. I find this foundation also photographs well due to low SPF content (only 15).

Application - I have tried applying my Teint Miracle with fingers, flat foundation brush, sponge and a stippling brush and I find that all methods worked great for me. I personally prefer the quick and air brushed application of a stippling brush though. When I'm applying this foundation, I feel like I'm putting on a tinted moisturizer, it just feels amazing one! I only use a pump and it's enough for my full face. It's literally impossible to overdo with this product.

Colour Match - Lancome divides their shades into categories of Ivory (fair), Buff (light), Bisque (medium) and Suede (dark). Every category has their shades organized from lightest to darkest and also includes N (neutral) W (warm) and C (cool) undertones. I was matched to Buff 4C which is a dead on match for my neutral/cool skintone (NW25, N2 in MAC). I usally wear more neutral shades but for some reason in this foundation the cool shade worked best.

Packaging and Price - I absolutely adore the glass packaging. I think it's very elegant and almost looks like a perfume bottle. The pump dispose the perfect amount of product needed for my full face. Teint Miracle retails for $44CAD in Canada so to me it's considered more of a mid-range foundation.

Hope this review was helpful to you guys. Have you tried Lancome's Teint Idole? What are your thoughts?