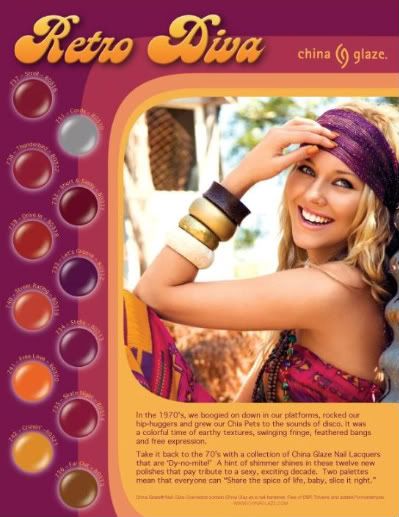 I just saw some swatches and info on the All Lacquered Up blog about the upcoming China Glaze Collection called Retro Diva. Here's the link:

All Laquered UP - China Glaze Retro Diva for Fall 2009

I'm actually liking quite a few of these. In general, vamps are my favourite nail polish colours. In fact I wore only black, red and navy nail polishes up until I turned 24. After that I started venturing into different and lighter colours. So fall polishes are my thing and I'm already excited about this collection. I think I'm in love with Stroll, Short and Sassy and Let's Groove.

This collection is available in July as per Michelle at All Laquered Up. I can hardly wait! What are your early thoughts on this?