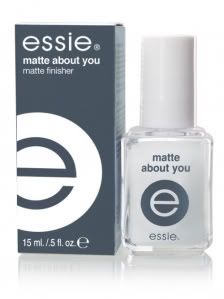 The matte nail polish is the trend this upcoming fall based on many matte collections released by nail polish giants like OPI and Zoya. However, I cannot get Zoya's mattes here. My Trade Secret has very few Zoya's and those are all the older red and berries. To make it worse, Zoya doesn't ship to Canada! Then, I wanted to get a couple of OPI's mattes. But I hear that the application is a pain in the butt, they chip easily and you can't use a top coat with them.

I was gonna just pass on the whole trend when enters Essie Matte About You topcoat. Now I have's seen this in person, but one blog, Scrangie's, has an awesome review on it. So I'm back on board. I'm gonna be stalking my Trade Secret to be able to get my paws on this. I really think it's much easier to get a matte top coat to transform your existing polishes into mattes ones (whenever you like) as opposed to getting like 10 matte nail polishes and then hating the application.

I saw the OPI mattes in Michelle's blog and I cannot wait to get my Essie matte top coat and put it over my Russian Navy and You Don't Know Jacques!

What's everyone's thought on the matte trend? Yay or nay?